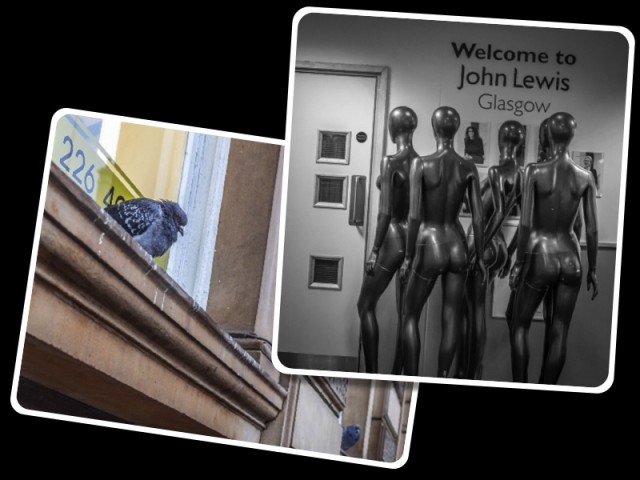 Woke expecting snow, but it was rain again.  Rivers of the stuff running down the road.  I drove Jackie in to Glasgow as I was going in anyway to get some paint.  Traffic was ridiculous going along M80.  Never seen it so busy in the morning.  However, because Scamp insisted on going a 'better' way one night, I knew a shortcut, well, actually a long road for a shortcut along past the fruit market.  Longer in miles, but way, way shorter in time.  Got parked without a problem in my 'secret' parking area of the Concert Hall.    Left Jackie to her own devices and shopping then went through John Lewis (another shortcut).  I was walking past the staff (Oops, 'partners' !?) entrance when I saw a group of mannequins inside waiting to ambush anyone who came through the door.  The sign above their heads read "Welcome to John Lewis Glasgow"  That gave me the title too: "The Welcoming Committee".  Managed to avoid one 'Partner' who was going in and get the shot before I was caught either by another 'Partner' or a mannequin.  Dived down to CassArt only to find that the paint I was looking for was only available on-line.  Bummer.
Walked back up the road and got a shot of a couple of pigeons looking really drookit.  Almost as drookit as I felt.  Plodded back up Bucky Street to the carpark and got to the ticket machine with only four minutes to spare, meaning I only had to pay £2 instead of double that if I'd been 5 minutes later.  I was going to say it put a brightener on the day, but that would be taking things too far.  It would need more than £2 to put a smile on my face today.
When I got home I discovered that I'd left the heating on, so the house was lovely and welcoming.  Much more welcoming than the Committee.