It's not often we all get together, typically twice or three times a year, but when we do all get off the leash at the same time, drink is taken, jokes are told and you must leave your sensibilities at the door. That's how it was today when we all arrived, well almost all of us at the Horseshoe Bar in Drury Street in Glasgow. It's our usual pub and has the longest bar in Europe, 104 feet and 3 inches. For those readers who prefer measurements in metric, but a calculator. The Horseshoe Bar also has the cheapest lunch deals I've seen in Glasgow, £4.50 for three courses is hard to beat. After we had all caught up with each other's lives, had lunch and a few beers, we went for a walk through the Merchant City to see what was going on in the festival. Not a lot going on when we started out, but on the way back we watched the hilarious Moustachioed Spies creating havoc and a great deal of hilarity with the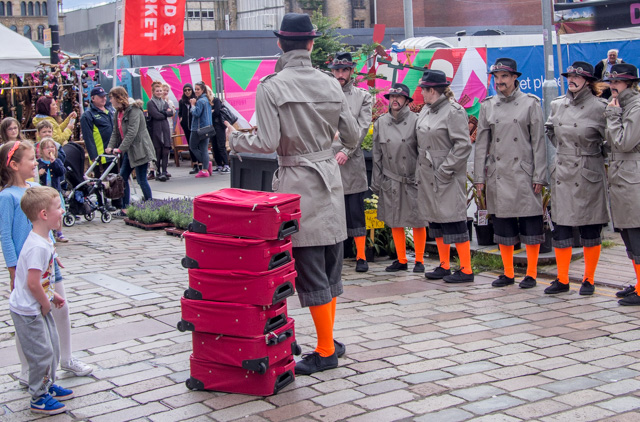 children who were watching them. After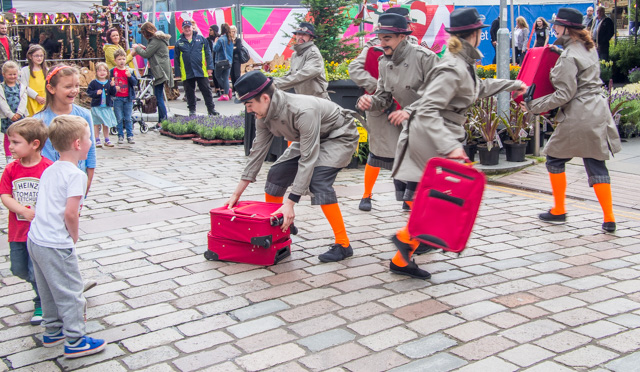 that we split up and went our own way with the stated intention of having another meeting in a couple of months.
Next I met Scamp who had driven into town and we got the subway to Kelvinbridge to meet up with another old friend and then we went together to salsa class. Great fun again.
A good day with good folk.  Oh yes, and the sun shone for a while.  It did rain too, of course!