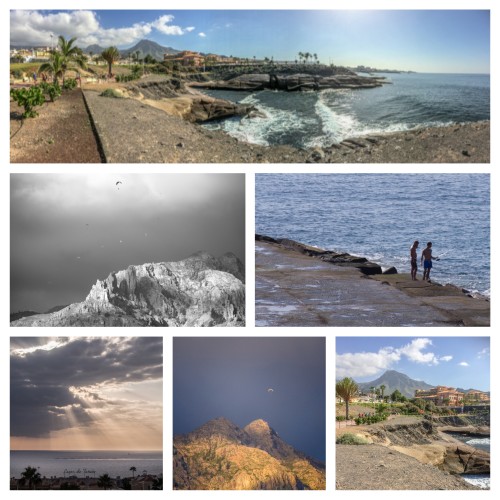 Today,  after being woken up by pneumatic drills at around 8.15, I got a pencil sketch completed before breakfast so that I could get the colour notes in place using the early light as reference. After breakfast, we turned RIGHT, walked to the bottom of the road and turn RIGHT again.  Every day so far we have turned left, today was going to be different. We walked along the high path that took us past a few of the hotels we had passed before and on to the headland.  There we noticed for the first time the blowhole with the cordon round it.  At first I thought it was steam coming from the blowholes, after all, the island is volcanic, but then realised it was water running up from a fissure in the rocks, pressurised by waves.  Not hot, but still impressive. After shooting a few frames of the pretend steam (or Imposter Steam, Hazy?) we walked round the bay. I made the decision to attempt the cliff walk next, although the signs said Danger and Do Not Enter. We entered and although the path was a bit hairy in places,  generally it was really clear path across very rounded rocks, rounded by many feet I guess. There was one strange bit where we came to a crack in the rock with a couple of rusted pipes sticking out and a sound like breathing coming from it. If I hadn't seen the blowhole, my imagination would have run riot,  but I realised that this was an other undercut made by the waves and the 'breathing' was just air being forced up through cracks in the rocks. Presumably the rusted pipes were vents for the air.  Scary though.
When we descended from the cliff walk, we were in a different land, we were in Poshland. It looked like the cheap hotels here were five star and heaven knows how many stars the really posh ones were.  One even had its own gatekeeper with white robes and a little pointed hat. Imagine if that was the way you had to dress to go to work! I was so taken aback I forgot to take a photo and that's not like me. We stopped in a posh land cafe to have lunch. Tuna baguette for Scamp and club sandwiches for me.  Posh, expensive and very nice indeed,  but what else would you expect in Poshland.
Walked back to Normaland and had coffee and a slice of apple pie in The Pantry. It may be Normal, but it's home to us. No white clad pointy had gatekeepers, but the coffee was good and so was the pie. Had to buy another bottle of gin because someone had drunk the last one! Went to level 5 pool and enjoyed another cold swim. sky had clouded over by then, so we headed for the apartment and watched a lovely sunset, then I started wondering what the light would be like on the mountains on the other side. It was startlingly beautiful and there was the added bonus of hang gliders catching the light from the sunset.  After that, it was Gin o' Clock with a really good dinner afterwards.  An interesting day in Poshland. A great place to visit, but I wouldn't like to stay there.