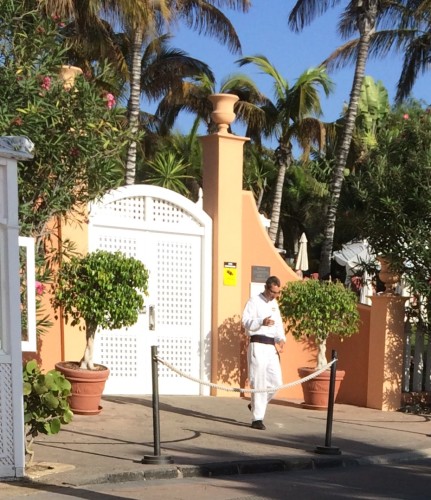 This morning we stayed by the pool on level 5. We both swam in the almost freezing water, although it isn't so bad once you're in. Didn't even bother to towel dry, just lay in the sun and watched the water evaporate! Walked down to The Pantry ( real find) for a light lunch, then walked right at the front to take us to the edg of Poshland. Managed to get a photo of the doorkeeper minus pointy hat today, but with his black belt. He's a black belt second Dan at doormanology you know. Not only can be open a door with either hand, he can do it with maximum damage to person. His door opening hands are licensed and he has to sign himself in at the local police station when he goes to a new town.
After our close encounter, we went for an expensive G&T in a bar on the outskirts of Poshland, well, Scamp had an expensive G&T and I had a slightly less expensive beer.
Walked back after that and went for a coffee at The Pantry. That is, Scamp had a coffee but I had a Baraquito which is a cocktail of a coffee. Google it!
Later, Scamp went to level 5 and I went for a walk on the dodgy part behind the hotel where people appear to walk their dogs. Loads of people walking dogs. Not on grass, but on volcanic cinders. Can't imagine that's comfortable for the poor dogs. By the time I got back, it was Gin o' Clock once again and after that it was dinner time, which signalled the end of another beautiful day on this island.