Today began early at around 6.45am to be a bit more precise. I got up to watch the entry into Naples, but I was an hour too late, it was meant to be 5.45am. I wasn't bothered as it gave me a chance to see the city from on high and get some good photos with the beautiful morning light. Had breakfast out on the deck enjoying the views and the warm sun. Scamp was still sleeping – she said she was too tired to get up. Later when she did arrive we went down to get a Red B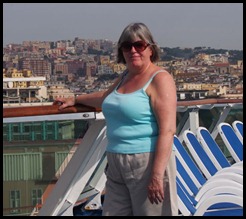 us Tour into the city. Unfortunately, when I was photographing the monument to the unknown immigrant, I noticed that the battery was low so I had to go back to the ship which meant up two long flights of stairs, across the bridge, down two long flights of stairs on the other side, through port security, through ship security and back to the cabin. Then I found that for some lucky reason, Olympus had seen fit to make the batteries in the E-PL1 and the E-PL5 almost the same. In fact, they were so similar they are interchangeable. That meant I would still be able to use the E-PL5. Great! Now back through ship security, port security …
Eventually we got out on to the red bus, which turned out to be a shuttle that took us to the bus terminus. We went on the Red tour which looked the most interesting. The bus took us up hills, down the other side into wee side streets that looked at first to be far too narrow. We followed a trolley bus for a while. How long is it since we've seen trolley busses? The route, like every Red Bus Tour we've been on was a circular one, eventually bringing us back to where we started. I really enjoyed the bus tour.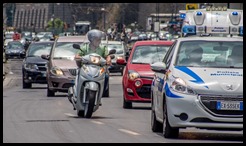 Scamp didn't like Naples – she never has, to be fair. We were hot and thirsty and also beginning to get hungry. We walked back along the route to the shopping area and found a pizzeria which looked ok. As soon as I walked in I felt the wash of the aircon. What a welcome feeling. My face must have been a picture as one of the Italians (all the customers were Italian) sitting at a table near the door burst into laughter and said "Is good, eh?" It was good. The pizza I had was also good. Very good in fact, as was the beer. I had a pizza Romana and Scamp had something she can pronounce, but I can't which was a plain pizza, no cheese or tomato, just a very thin baked base with a fluffy crust. The well in the middle was then filled with tuna, chopped baby tomatoes and rocket, then sprinkled with olive oil. Multo bene.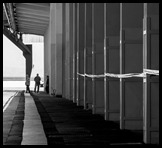 Lazed on the deck when we got back, but the sky was clouding over now. Drank gallons of iced water. Sunbathed for an hour and then watched the sail-away. After that it was time for dinner. Relaxed dress for dinner tonight. Scamp got talking to the woman at the same table as us – Sue and the two of them were amazed at the parallel lives they'd led. Both were singers in a choir. Both had done the Big Sing. Both had run keep fit classes for older people. It was quite an astonishing evening.
After dinner we went to look at the photos we'd had taken yesterday and Scamp was not amused at them. I was not amused at the way the display on the touch screen computers kept stalling every few seconds. Eventually it hung completely and we logged out. Not impressed.
Watched the sun set then had a coffee and listened to the pianist. Went to bed, or tried to. It appears there is an elephant in the room next to ours, crashing around, which is strange on two counts.
1. We've not seen an elephant on board, and if it was in the pool, wouldn't we have seen its trunks somewhere? (Joke, Scamp).
2. There's not a room next to ours. Update. There is a room next to our's. It's a crew practise room, where they can practise making up beds and feeding the elephant.
Hoping to get up at 5.30 tomorrow to see the passage through the Straits of Messina, if we get any sleep.