Well, we did get up at 5.30am and it was worth it to see the Straits of Messina. We also got to watch the sunrise over the toe of Italy. Great start to the day. I don't think we had realised just how close the ship would be to the coast on both sides. It certainly was a great sight to see. We couldn't get up to the top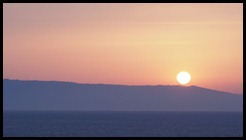 deck because the wind was so strong. Probably a good thing really. We did see one girl, three sheets to the wind staggering up the stairs with a hangover in the making. If she had managed to get to the upper deck I'm sure someone would have had the chance to test the crew's readiness for "Man Overboard". Should that now be "Person Overboard" now in these PC days? I'm sure someone will try to get it changed. Anyway, the two blokes with her wouldn't have been much use, but I don't think they were as drunk as they tried to imply. Scamp went back to bed after the Straits had disappeared behind us and I stayed up. I went to reception to complain about last night's elephant rampage, but no elephants have been reported on board. However, if we hear any elephantine noises tonight we've to phone 5000 to get an elephant trainer to come and calm it down. We'll see.
It's 8.10am just now and I'm sitting in the shadow of the Sky Deck writing this, but I think I'll soon be grabbing a sunbed to top up my tan. It's a strange to think that there's a place in the world where I've had breakfast and am going sunbathing at this hour. More later.
Sat for an hour painting, then I woke Scamp and we went for breakfast. Second breakfast for me. After that we went looking for sunbeds. Found a few behind the golf range which acted as a windbreak and made it quite comfortable. This is definitely "taps aff" weather for me. Soaked up the sun for a couple of hours and then it was time to go to dance class. Swing Jive today. Looks so easy, but it is a lot more difficult than it seems. After that I went to a talk about art prints and what makes a limited edition. Really interesting, but the figures they were talking about were way above my pay grade.
Dancing again in the afternoon and more sunning ourselves.
Black tie dinner tonight, but I only lasted for the dinner and a walk around the deck before I had to give in and hang up the kilt. Too hot for it here. We did manage one dance. We commandeered a samba and turned it into a samba. I was knackered after that. Then Scamp wanted to do a Cha-Cha, so we did and that was it for the night.
Elephants are back again tonight. It's coming from the restaurant, I'm sure. There really shouldn't be rooms below it. However, as Scamp says, they have to get the kitchens cleared up for these hungry people like us to stuff our faces again the next day. Truly, you eat, drink and sleep. We like the cabin and its position near the pool, so I expect we'll put up with the elephant. It's on its holiday too

. Looking forward to Dubrovnik.