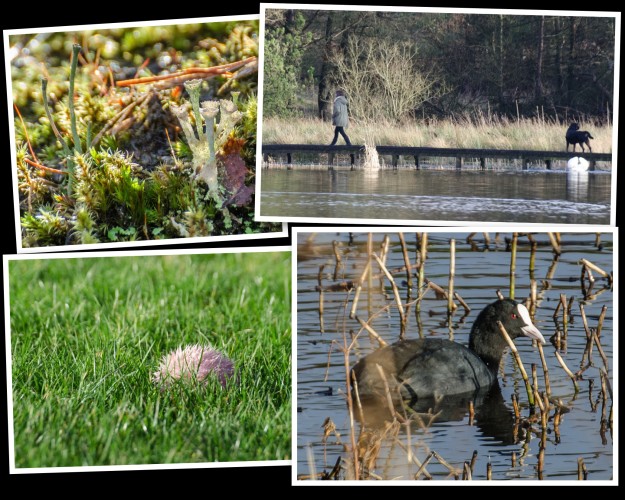 We had intended going to Ayr today, but the weather said NO! It rained all morning, then as predicted by the weather men (and ladies) it stopped at midday. Too late to go to Ayr, or anywhere else really, so we took some rubbish to the council tip. Hmm, not exactly exciting or scenic. However, it was worth a walk over to St Mo's.
I spent an interesting and worthwhile hour in St Mo's. The light was good, the ISO setting was reasonably low and I got quite a few shots. From the 70 odd shots I distilled the four above. Top left is a group of Cladonias lichen which will forever be called Green Trumpets by me. Top right is a wummin walkin' her big dug. Try getting Google to translate that! Bottom right is a coot looking for some bread. I had none today. Bottom left is a rare Scottish Pink Haggis – the female of the species. It was grazing on grass near the old BMX track. They will feed on grass if there is no heather available.
Hoping for more sun tomorrow.