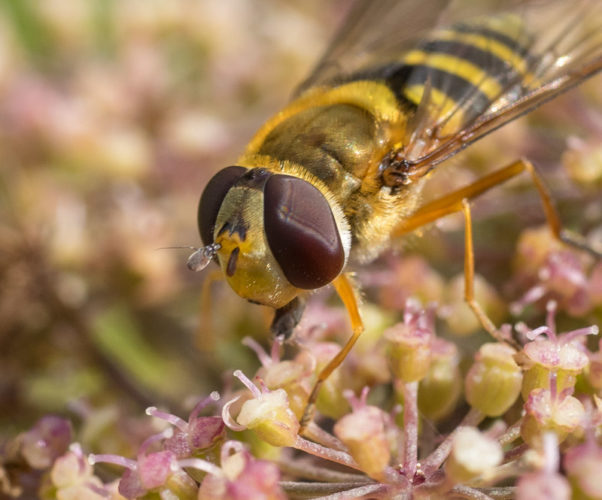 Today Scamp started to feel a lot better.
I'd actually been feeling ok yesterday, but today I was back to my normal cheery self. Spoke to Hazy in the morning and I think that cheered Scamp up a bit.
Decided against going to salsa in the afternoon as we didn't want to pass on what we now think was Norovirus. It's a nasty piece of work and not something I'd wish on my worst enemy, well, maybe my worstest enemy, but not just somebody I didn't get on with.
I went out for a walk to St Mo's in the afternoon and got some more beastie shots, really only just hover flies. Took 13 kept 5 which is almost a 1:3 proportion. PoD was a head shot of a hoverfly. Apparently it's a female Syrphus ribesii. So says Paul Johnston on Flickr and he know all these beasties by Latin name.
We both attempted solid food today and felt the benefit of it. Dull cloudy day with occasional rain showers, but also sunny periods. Good Scottish weather.
No salsa tomorrow as the teacher is off galavanting again. Quite glad really for the same reason we didn't want to go to sals today.
Nothing planned for tomorrow, but may pick up my new glasses from Larky.