An unusual day that started like so many this summer with low cloud and dull, dull, dull. Then a change happened. It got lighter and lighter, then the sky turned an unusual colour, a sort of blue colour. Strangest of all, this great shining white ball appeared and hung in the sky and it felt warm – all afternoon! Got out for a walk along the Luggie. Not much to see. I had hoped for a sight of some dragonflies or at least damselflies at the little pond near the road bridge, but none were to be found, in fact there was no life in the pond or its environs. I did get some shots of some interesting seed pods. Hmm, interesting seed pods, eh? Well, that's what photography is all about. It's not all beautiful vistas with sun glinting off the waves, or mountain peaks against a dark and ominous sky. Sometimes its the little things, or in this case the contrast between the hard, sharp seed pods and the soft greens surrounding them. In other words, it's what you make it and working with what you've got. Today, walking along the Luggie in the sunshine, seed pods was what I got.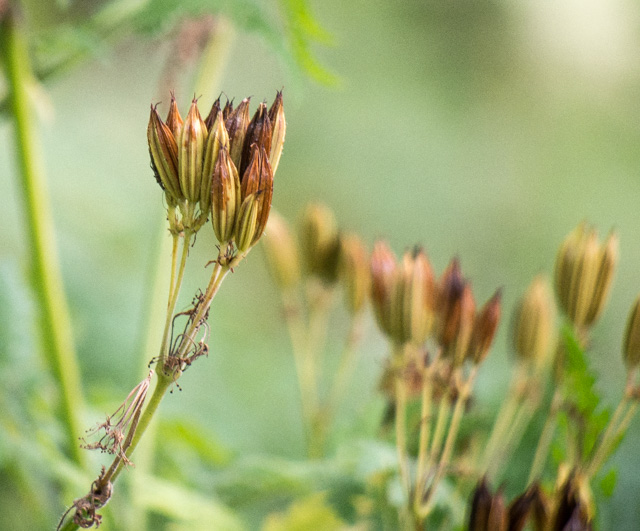 This was my first shot today and it's pretty much as it came out of the camera.  Slight adjustment to the levels and a bit of cropping, but like I say, just a plain shot.  I liked the composition in thirds and the slightly out of focus seed pods in the background.
–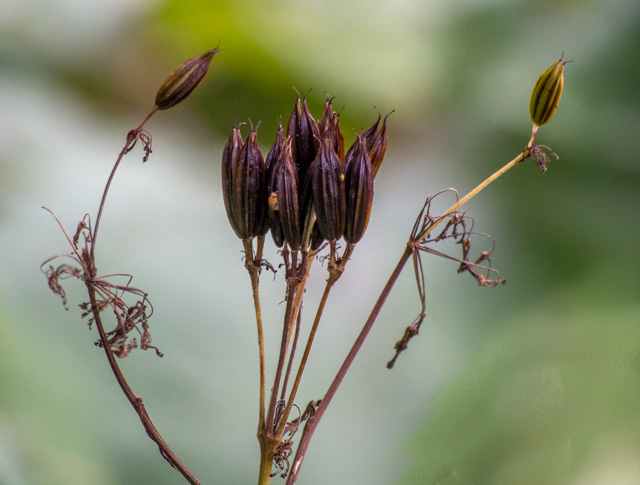 This one was more difficult.  Cropped and levels in Lightroom, then a bit of editing in Photoshop to remove a distracting out of focus seed head that didn't improve the composition.  Finally a bit of brush work back in Lightroom.  I liked the finished article.
Hoping for more sun tomorrow. We can always hope.