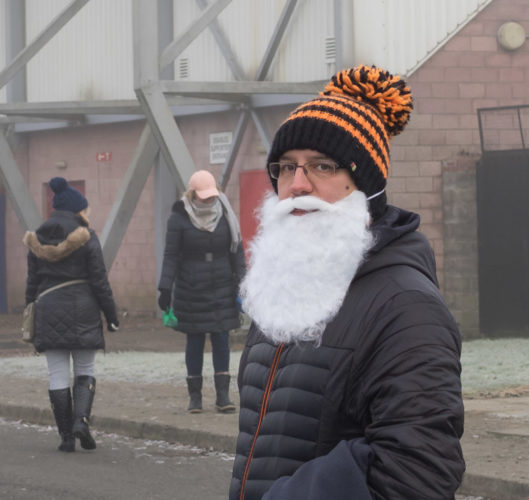 The rest of the day didn't get much warmer.
Actually, I just realised tonight that we'd both achieved "out before 11am" today by accident rather than on purpose. The annual Santa Run, or Santa Dash or to give it its name this year Christmas Cracker 5k, started at 11am at Broadwood Stadium and we were standing waiting for the runners just before the start time. I felt sorry for the runners, there were more dog walkers than crowds of cheering punters there to see them off, but they didn't seem to mind. Neither did they seem to mind the sub zero temperature or the freezing fog that covered the course. Two enterprising folk were trying to film the race using a drone. Good luck with that folks, you could hardly see the runners when they were about 100m away, even with their Pound Shop red Santa suits. That said, I commend them for their efforts and for the efforts of those who stood in the cold to cheer them on, all ten of them, and finally, the organisers who directed the runners round the correct way. It looked like almost everyone enjoyed it, everyone, that is except one wee toddler who was bawling when mum, dad and wean passed us about a quarter the way round the circuit. We went home to a house with heating on full and had lunch!
Not so lucky 10,000 houses in Falkirk without any gas because a valve had broken and the gas board couldn't tell when it would be fixed. Tonight they don't seem to be any further forward.
Actually that was the total of our ventures outside today. The temperature didn't rise above freezing and now it's -3ºc. It looks like we might get some less cold weather in the next few days. I hope so, because I've committed myself to getting my hair cut this week. We were meant to be going dancing tonight in Glasgow, but we both agreed it would be better to stay home.
PoD was a person wearing a Santa beard at the start line of the race. I don't believe that's a real beard!
With a bit of luck, Jackie is coming down to Embra tomorrow and staying with us on Monday night. June is expected for dinner and I'm being allowed to go to Salsa by myself! We'll see how that turns out, or even if that turns out