Another cold day, but a much later rise.  Ordered a Tamron 70-200mm USD lens.  Hopefully it will be available to pick up tomorrow.  Took the Oly out for a walk today to give the Nikon a rest.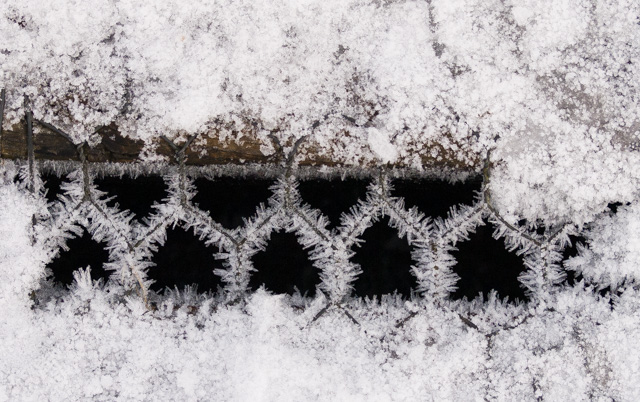 Chicken wire laid down to provide a grip on a wooden walkway.  I liked the clean lines of the frost against the black.
365/012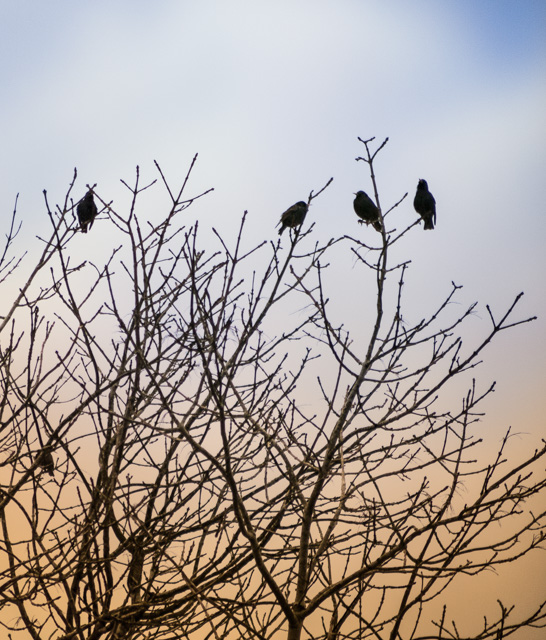 These birds caught my eye.  It looked like they were waiting for better weather.
As usual, that's only part of the story.  After I looked at the shot in LIghtroom, I thought it looked a bit dull and uninspiring with a milky white sky, but very like what I had seen.  I dumped it into Lightroom as a layer along with the pic of pansies I shot last week. With the flower shot on top, I blurred the pansies with Gaussian blur in PS, changed the layer type to Hard Light and reduced the opacity to provide a cloud-like background.  Not satisfied with that, I created another layer on top, set it to Overlay and gave it a circular graduated fill from white at the top to orange at the bottom, then reduced its opacity too.  Saved it all and back in Lightroom I cropped and adjusted curves to brighten the image.  It's not what I saw, and it certainly is a fake, but nothing is real in photography.