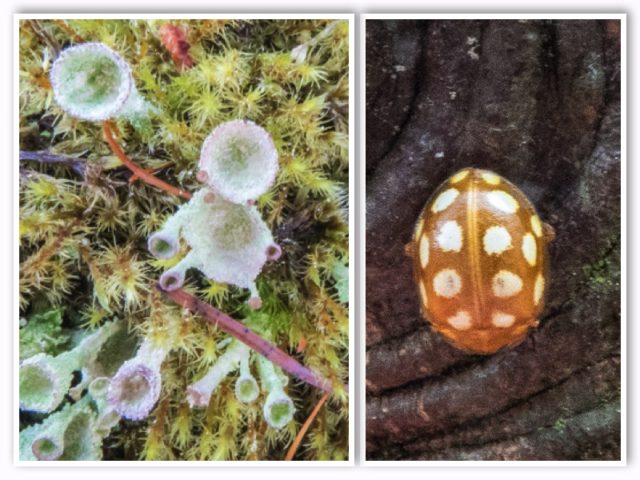 Today was the Salsa Ball. Everything else paled into insignificance before this great annual event.
I did get out for an hour in St Mo's in the afternoon, but the light was poor and fairly flat, so it wasn't conducive to interesting textures or anything really. I did find a wee hibernating ladybird on an ash tree, never seen that before. PoD became the 'looking down view' of the Cladonia lichen. They look so alien, especially from this viewpoint.
Dinner tonight was a re-heated curry from last night and like second-day soup, tasted even better than it did the day before.
I'd decided to drive in to Glasgow and park directly across from the Classic Grand in the Q Park in Jamaica Street. Unfortunately the satnav couldn't find a way in to it and kept trying to make me drive the wrong way down one-way streets. I eventually found another 24 hour Q Park, not far from Jamaica Street.
The starting time for the Ball was 8pm, but we were told the doors would be open at 7.45. When we got there, the queue outside told us that Shannon had got it wrong. Actually, it was the Classic that had it wrong, some of their staff hadn't turned up and to be fair, it was Shannon who stepped in and took the tickets at the door. The place was mobbed! There was a bachata lesson before the dancing proper started, but there were so many folk on the floor, you couldn't see what was going on. I think we have it on video, and Scamp liked the moves, so we may add them to our 'repertoire'. After the bachata, Jamie Gal tried to do a glow-stick rueda, but it ended up a total shambles. There were meant to be two concentric ruedas, but it just ended as a 'rammy'. After that it was social dancing. I got told off by Grant's wife for not dancing with Scamp! I was just so much in demand, you see by all the beginners!!  Overall it was good, but not as good as last year.
I finally threw in the towel about 11pm. I was exhausted and my list of moves was exhausted too. Walked back to the car and found that we only had to pay £7 for the night's parking. That's a lot better than I had expected and a great deal more convenient than waiting for a taxi home. Ok, I didn't get to have a drink, but neither of us usually have a drink when we're out dancing.
As you will probably have guessed, this blog entry was written after the event, on 'the day after the day before' as Jaime said after the wedding in Trinidad. So 'today' will be a fairly restful Monday hopefully with more dancing in class tonight.