Unlucky 13th?  It didn't affect me, for once, well it did, but only marginally.
We drove in to Glasgow after lunch to show off our new-found confidence in Quickstep. They do say that pride comes before a fall or as the Bible has it: "Pride goes before destruction, a haughty spirit before a fall." Either way, that's what happened. Michael, as usual picked us up on a few little things we were doing wrong in Jive, then proceeded to tell us we weren't doing one of the moves correctly. That might have because you hadn't taught us it yet, Michael! It's no use arguing with him, because he uses his deafness as a shield and just ignores complaints. I'm not convinced he is as deaf as he makes out. I'm going to get him one of those ear shaped erasers from CassArt and give it to him as a present. Rubber Ear indeed.
Anyway, we survived Jive and also the ridiculousness of Rumba and Cha-Cha which start on beat 2. Whoever decided that was lacking in the numerical department. We waited impatiently for the Quickstep music to start because we knew we'd ace it after two hours of practise between Friday and Saturday. It was a disaster. For once it wasn't me making the biggest mistakes, Scamp just couldn't put a foot right. Now I know how she feels when I screw things up. A cup of coffee in Nero made things better. Drove home and Scamp made the dinner, but managed to drop her fried egg on the floor. Maybe she should have had a Large coffee in Nero!
Drove in to Glasgow for the 6.30 class. CITRAC claimed the time from Cumbersheugh to Glasgow Airport was 42mins (on a good night it's less than 20). It looked like the motorway was going to be a carpark again. Fifteen minutes later we were in the STUC building. Why have a display system like CITRAC if it's totally inaccurate? Anyway, the 6.30 class was great fun as was the 7.30 class, but as it is closing soon, the numbers were low, although the spirits were not! Maybe it was that, or a footbath to ease her feet, or maybe it was a stiff G 'n' T that put the smile back on her face, but whatever it was, she's gone off to her bed looking a lot more like herself.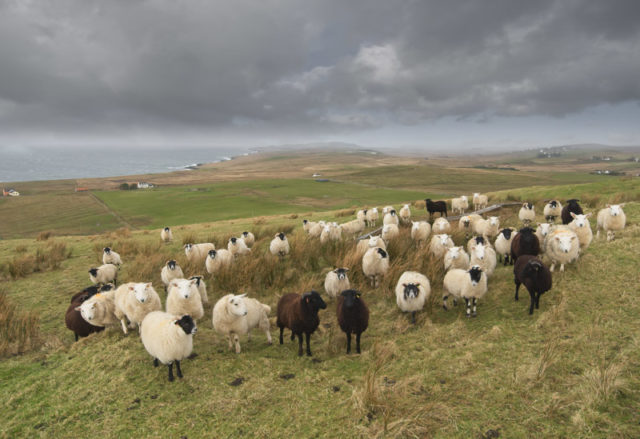 Today's PoD was taken outside the GOMA this afternoon. I think this one is much better.  It was taken near Duntulm on Skye last Saturday.
Tomorrow is a tying up loose ends day, I hope.