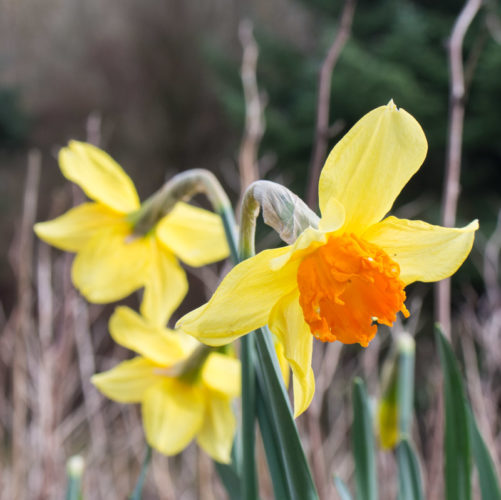 Storm Gareth has been rumbling around all day.
The highlight of the day was going for the 'messages'. We only went as far as Tesco, but it was far enough with the high winds and the driving rain. Thankfully there wasn't any snow, just some sleet.
I did a bit of painting using the Inktense sticks to get some interesting colours in the sky. Also, because the sticks are actually solid ink, it's possible to layer colours without disrupting the original layers. That's something you can't do with watercolour paints. It's still been a bit messy and will take a while to get to grips with.
After lunch I thought I should go out and get some photos in the spells of sunshine we were having. I walked over to St Mo's and got a shot of some daffys growing on the banking at the side of the M80 slip road. The daffodils are one of the few things that the Development Corporation got right in Cumbersheugh. However NLC undid all the good work when they dug up the flowers on Central Way to leave the banking clear for the £0.5m 'waves' that now grace the dual carriageway.
I stood for a while just in the treeline at St Mo's listening to and watching the big Scots Pines bending in the wind. One of them was bending so much that you could see the roots rising out of the peat. I didn't stay there too long. I must check tomorrow to see if it's still standing.
Came home and made Butternut Squash soup and Scamp made Potatoes and Cabbage with the addition of bacon for me. An ideal meal for such a cold windy day.
Tomorrow we may be dancing. It depends on what Gareth says.