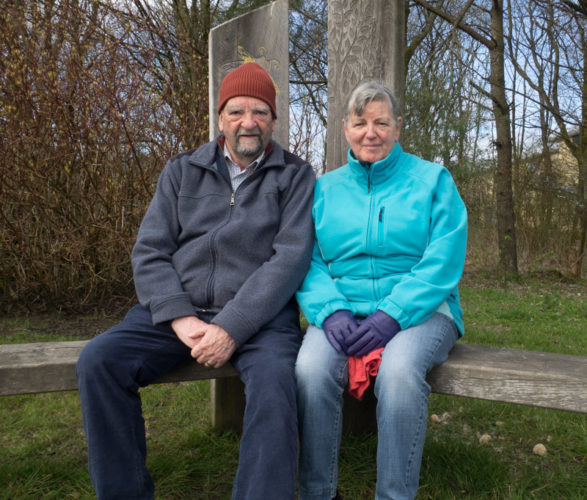 To be seventy.
After breakfast this morning I opened the parcels. These weren't prezzies, they were gifts from my family. From my son and daughter, from my son-in-law and daughter-in-law. I really cannot put on paper just how humble I felt. You are all wonderful. I know this wasn't the birthday celebration you'd planned, but your generosity, especially at this time is beyond words. I love you all.
I wanted to have a photograph to remember today. It was along the lines of a Paul Simon song "Old Friends":
"Can you imagine us years from today, sharing a park bench quietly?
How terribly strange to be seventy."
Around midday, Scamp and I took a walk over to St Mo's. I knew of two park benches there. Both of them were in use. One with a mum phoning everyone in the western world, sequentially, one after the other and keeping the seat occupied. The other was home to at least two families of mums and weans who didn't look as if they were going to move anywhere fast. We walked on and that was when Scamp noticed the "Bee Seat". It's a wooden bench seat in the grassy area of the park, away from the path, so I suppose it was an actual 'Park Bench' and it was quiet. I set up the tripod and took a few shots. I just knew one of them would have me moving. One would have either Scamp or me with our eyes closed and one or two would be fine. I was right. I picked the best one and it became PoD.
Back home and after a quick lunch, Scamp went out to wash her car. I thought it was a good idea, so once she was finished, I washed mine too, just to get the seagull crap off it. We spent the rest of the afternoon enjoying the sunshine and chatting to the next door neighbours at well over the recommended 2m distance. Me with a glass of beer and Scamp with a G&T. The neighbours were having a wee glass of something too. A very civilised way to spend a birthday afternoon.
I'd requested a mince pie for dinner, not to be confused with a mincemeat pie. This is a half a pound of mince seasoned with salt and Bisto and wrapped in flaky pastry. Baked in the oven for about 25 mins, or until cooked. Hot or cold it's delicious. I had half tonight and will hopefully deal with the other half tomorrow. My cake was a Scamp speciality, a coffee cake, with just the one candle. Seventy would probably have set off the smoke alarm and been an absolute nightmare to blow out. We held off the lighting of the candle until we were on Zoom and all three parts of the family were together. It was good to see everyone together again, only two weeks since our last hook up.
Scamp, as well as providing the cake and the dinner had made me up a 'Lucky Box' with an assortment of goodies with the inevitable Toblerone. All the separate items wrapped up in tissue paper to make it even more festive. She also managed to make me a birthday card, a birthday banner and also posters. Such a clever girl.  Thank you, all of you who sent messages, e-cards and analog cards.  Thank you all.
All in all I had a wonderful 'Special Birthday'. One I really enjoyed.
Tomorrow we may go shopping for milk and bread. Just the basic staples.