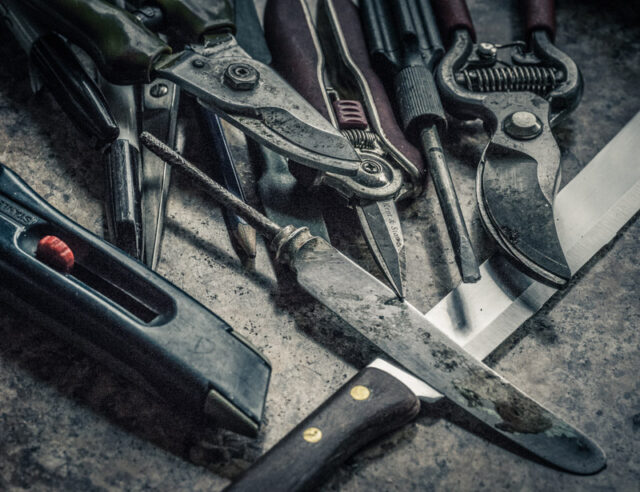 … but dull's sometimes all we have." Admiral Fallow.
Another day when the sun didn't seem to want to come out to play. It was dry for a while in the morning, but then the rain started again and it did want to come out to play. In fact it enjoyed it so much it stay all day. It's probably still out there splashing in the puddles.
Today I made some dough which I would in turn make into a couple of pizzas for dinner tonight. They were very nice pizzas too. Lots of tomato sauce and anchovies covered with mozzarella cheese that had been in the freezer since last year. It keeps perfectly, you know, at least the grated stuff does. Not sure I'd like to freeze the fresh mozzarella balls though.  Scamp baked an apple pie with our own apples that she had frozen back in the late summer.  As always, she wasn't totally happy with it, but I had no complaints.
PoD was a collection of knives, scissors and secateurs that usually live in a ceramic pot in the kitchen. I tipped them on to the work surface to wash out the pot. When I saw them with the light coming in from the kitchen window they looked interesting, so I took some photos and with a few tweaks and the help of a preset I'd downloaded from a bloke called Mark Galer, they became PoD.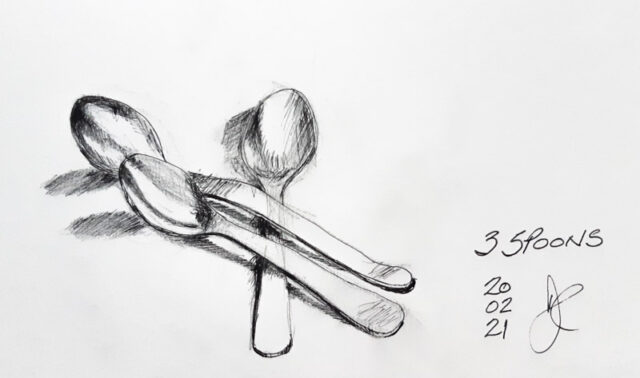 Today's prompt was Spoon. I was generous and raised the bid to three spoons. Odd number again. Drawn in ink because there isn't much colour, except reflected colour, in spoons. I photographed the finished drawing, then tried putting on a wet wash which would make the ink run and create shadows, but it just didn't work. Glad I photographed the original pen drawing.
Tomorrow is forecast to be better than today, which wouldn't be difficult. We may go out for a walk.