Went to photograph a farm in deepest Ayrshire today, but the light wasn't right and I wasn't happy with the results, so until the results suit me, you won't be seeing them here.  My blog, my rules!  After that, I got solidly lost in the hinterland of Newton Mearns.  Didn't actually thing they'd allow a dobber like me into their gated community, but they did.  Having said that, the polis did tail me for a few miles, just to make sure I got the message and got back on the M77 sharpish.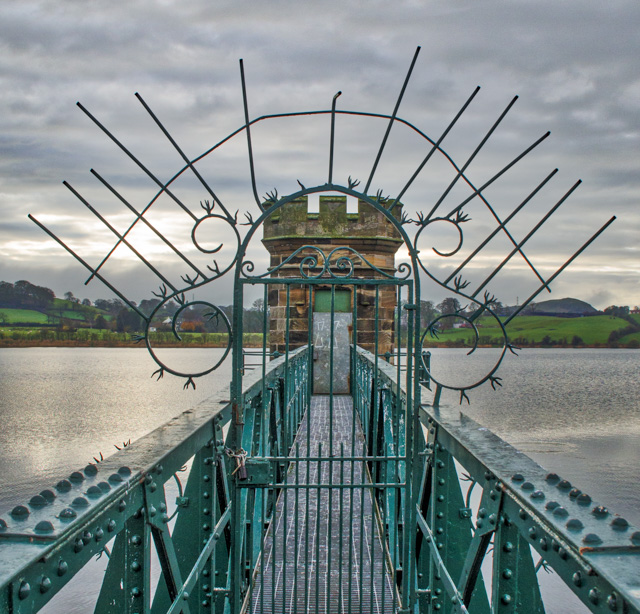 This is the Balgray reservoir.  To be more precise, it's the access walkway to the little control tower on the reservoir.  I liked the detail in this vandal deterrent.  You can see by the graffiti on the door in the background that it's more decoration than deterrent, unfortunately.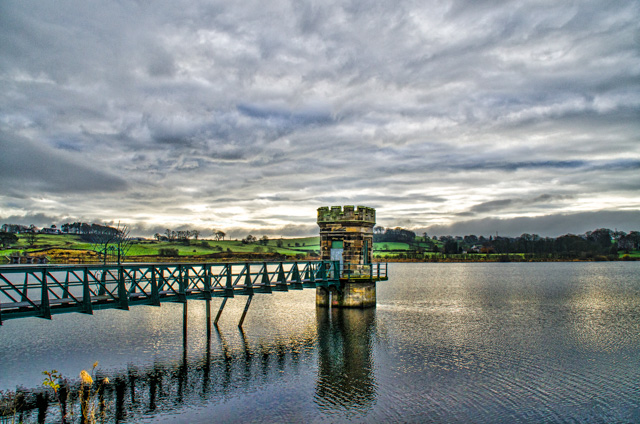 This is the picture of the day.  It's the tower and access walkway at the reservoir.  I watched two Polish blokes fishing nearby.  One of them caught a pike.  I remember my dad telling me that Poles used to fish in the loch at Glenboig for pike and were the few people who would eat the fish.
365/319
I left the dreadful Blipfoto today.  It's been on my hit list for a few weeks now.  It consistently loses entries I add to my collection there.  The interface is clunky and extremely user-unfriendly.  Ok, so is this at times, but I'm making this my own as I go along.  Any mistakes are mine, not some dobber in Embra collecting my money and not providing a decent service.  It was good to start with, but now it's becoming worse each week, so I've left.  That leaves me with Flickr (slow, but a reasonably good audience) and this (long may it continue).  Thoughts of Chairman Zog.