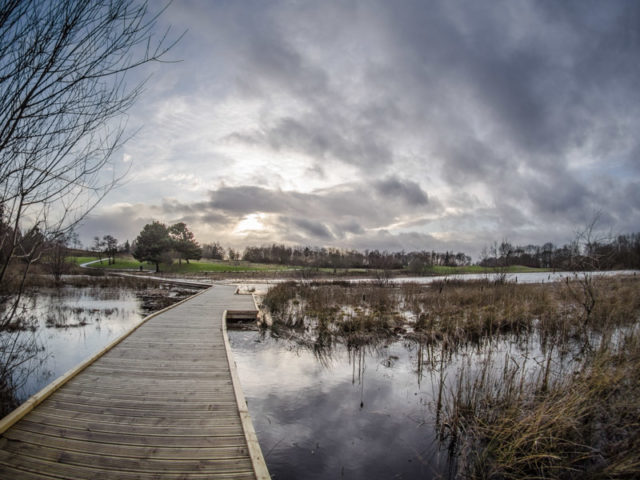 Not one, but two doctor's appointments today. That's just greed, I know.
The first one was in the town centre at 9.10am and I was there with plenty of time, despite seeing the only space in the carpark disappear, stolen by the white car in front of me. Drove round to Tesco carpark and got a space almost at the health centre. Retinopathy Clinic for the first appointment and it was an easy one. Two photos taken, one of each eye and that was it. Plenty of time to get to the next one, just along the road. Time for a coffee in the better of the two Costa shops in the TC. Better, but still not good. Was served by a former pupil who gave me a suspicious second glance, still not sure I was who she thought I was. Her name badge said Amanda, and an hour later my memory filled in her second name.
Second appointment was a bloodletting after the aborted one a couple of weeks ago. This one was done with the expertise of a practised phlebotomist. Soon I was on my way again and instead of going straight home I drove to The Fort to get EE's opinion on my phone which seemed to have lost its ability to connect with 4G. The assistant did a refresh of the network settings and after an hour or so it started to work again. Bought the last A4 Seawhite sketchbook in Hobbycraft and drove back home for some real coffee, courtesy of Hazy's Christmas gift. This one much nicer than the Columbian which I found a bit sharp. Thanks again Hazy. Then on to some drawing. Yesterday's PoD asked for a basket and I chose a hanging basket with strawberry plants in it. It hangs at the back door and really does produce strawberries, albeit quite small ones.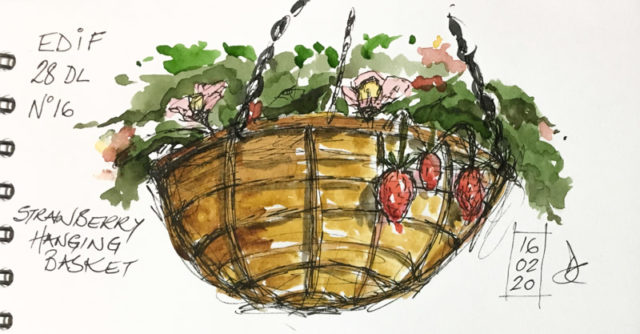 Lunch was bacon and eggs and then it was time for today's sketch which was a selfie. Done in front of my shaving mirror. According to some it's a good likeness while others say I look like my dad. That's a compliment.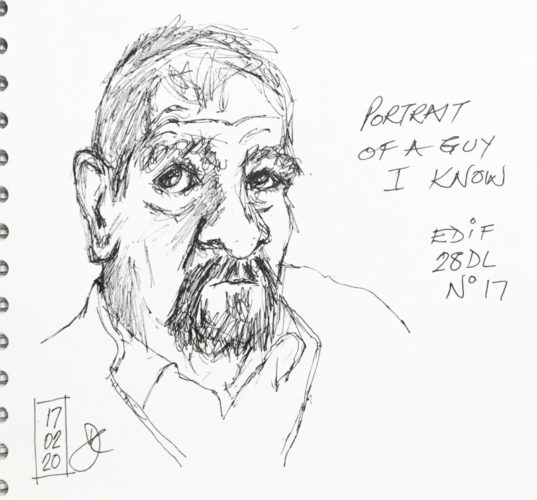 Went for a walk over St Mo's and was amazed at the height the water in the pond/loch had risen. It must be up by over 15cm after a night of torrential rain. Today's PoD is of the boardwalk and the new loch. Double the coverage it was yesterday. Dinner was yesterday's Chicken and Chorizo stew and it tasted much better today.
Out dancing and I was initially paired with the teacher!! Oh dear. Then one of the other ladies was free and she and I danced for the hour. Waltz and Foxtrot and I only trod on her toes once!
Back home and it was time to go and pick up the sisters. Finally with June delivered, and a natter with Scamp, I had a small whisky and went to bed. A long day, but a lot done.
Hoping to go to Hamilton tomorrow for lunch if Scamp's cold is better.