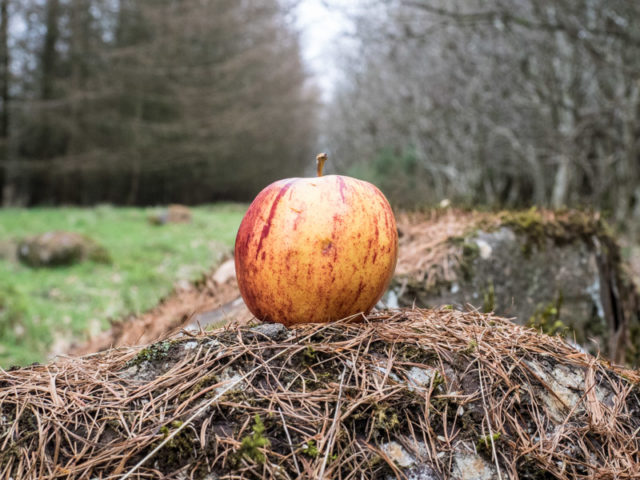 Today Scamp was off on her travels again. This time with her big sister to meet their wee sister.
The bus to Inverness was at 9.10am on Sunday, so we were up early. Out about 8.30 to pick up June then the drive through the wind and rain to Glasgow. Dropped them off at the Concert Hall and watched to make sure they were across the road safely and then drove back home for a restful day.
Didn't actually do much with Storm Dennis thundering around the houses. I did manage to drive up to Tesco and buy myself a steak for dinner, then decided instead to make Chicken, Chorizo, Beans and Tomatoes. No recipe and no chicken, so I went for a walk to St Mo's to see how high the water was and then do a detour to the local shops to get some chicken thighs. The water level in St Mo's pond was fairly elevated, but not as high as I'd expected. The weather was actually quite decent, apart from the wind, but by the look of the clouds it wasn't going to stay that way for long. Cut short the walk after I'd got my planned PoD which was an apple sitting on a rock. When I go out for a walk in the woods I usually take an apple. I eat about half of it and leave the rest somewhere conspicuous and it's usually gone the next day. Deer, rabbits, squirrels and mice are all welcome to join in. Today that apple became PoD.
Walked back via the shops. No chicken thighs in the first shop, but that's the benefit of having three grocery shops in a row. If you don't find what you want in the first one, one of the others is sure to have it, and that's what it was today. By the time I'd finished my last bit of shopping, the rain joined me for the walk back home.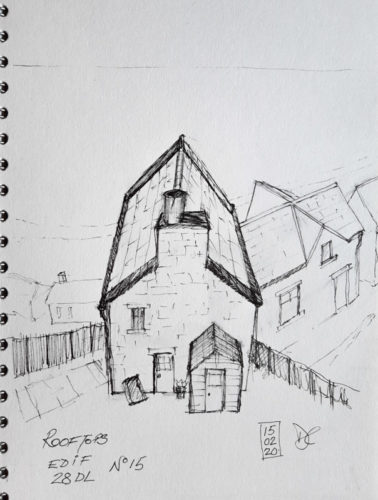 Made what I think of as a chicken and chorizo stew and put it in the slow cooker to, well, cook slowly. Then finally produced yesterday's sketch of Rooftops. Sort of from my imagination and also partly from photos I'd found of Robin Hood's Bay. So that's yesterday's SoD done, but no time to attempt today's topic of 'Basket'. I really must get better organised.
Scamp seems to be enjoying the luxury of a night in an Inverness hotel with here sisters, while I eat chicken and chorizo stew. Actually it tasted quite good.
Tomorrow I'm intending going dancing by myself!