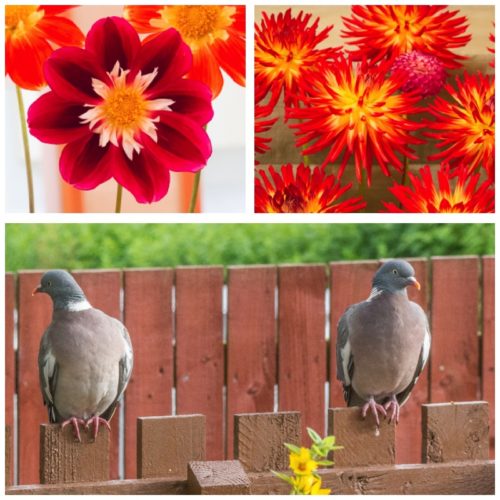 That's how it felt today. From the minute I got up until now 9.30pm, it feels like I've been on the go all day. Here's how it happened:
Went shopping with Scamp in the morning through the dreadful traffic in Falkirk. In less than five hundred metres there are no less than five different sets of traffic and pedestrian lights. Come on, this isn't central London or even Glasgow city centre, this is a small town in the central belt. What's the story? Were too many traffic lights made that year and they had to put them somewhere? Away back in the dim mists of time not long after the UK joined what was then the Common Market, there were stories in the press about Butter Mountains and Wine Lakes. Is this the result of a Traffic LIght Forest? Rant over.
After fighting my way through this no-man's land of tailbacks, not once, but twice, we drove home and dumped the hard won food we'd sourced at Morrison's, had a very quick lunch then drove to Muirhead to Colin's Flower Show. It's not actually Colin's. True, he is on the committee and enters an amazing amount of stuff in it, but other folk do to. Today's show wasn't quite as grand as some I've seen there, but most of the flowers were spectacular, and the vegetables were mammoth. I don't know how these folk do it.
We left the flower show and went for coffee, then bought even more food in Asda. Still not satisfied, we stopped at Tesco to get the things we'd still to check off our list. Well, at least we spread our money around all the local supermarkets! Finally we headed home to try to find places to put all these consumables.
By the time everything was packed away and the fridge door closed on the groaning shelves, it was time to make dinner. After dinner, once we had done the washing up, I set to, to make the paste for tomorrow's Thai Green Curry.
With that made, I grabbed a cup of Earl Grey and went to read for an hour before starting to tidy the painting room (back bedroom) for tomorrow's guest.
Now I'm writing the blog and submitting the photos to Flickr, after which I may have a small libation. I think I deserve it.
Tomorrow will not be as frantic – please!