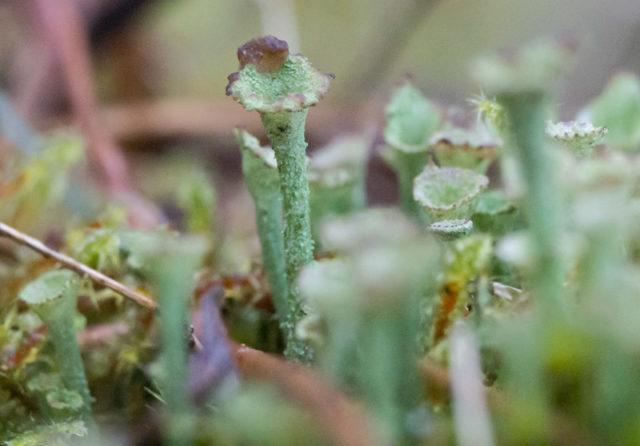 This was the day after day at the seaside
Dull, rain and wind. That sort of summed up today. We'd half intended going to Dunfermline on the bus, but Dunf isn't the most exciting destination on a good day, in the wet and the wind it wouldn't have been worth the effort, so we just stayed in.
I did go out for a walk in the afternoon, just to get out of Scamp's hair and to look for a PoD. The alien landscape above is it. It's actually Cladonia lichen on a boulder in St Mo's. For some reason there were thousands of them there today. Maybe it's the unseasonably warm weather that's made them sprout, but lichen are not fast growing, so that's an unlikely reason. Answers on a postcard please.
Dinner courtesy of Golden Bowl, but a miniature dinosaur's bone marinading in the fridge for tomorrow. Found a website that gives a formula for a marinade. Basically it's an olive oil base with some garlic some acidic liquid and some herbs. Blitz the lot and put the meat in a zip-lock bag then pour the marinade over it. Seal the bag and leave for up to 24 hours. I'll report back on the success or otherwise tomorrow.
Watched Trainspotting T2 tonight and loved it. Especially good was the extra feature with the four (five) of them talking.
No plans for tomorrow, but MUST go out somewhere!
---
Today's Marinade
1/2 cup olive oil
1 clove garlic
2 Tbsp Balsamic Vinegar
1 sprig thyme
A few basil leaves
Small handful parsley