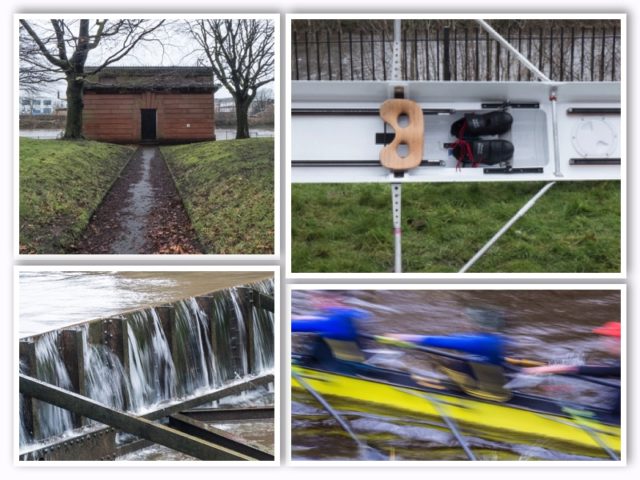 This morning, after a call from Hazy, we drove down to Glasgow Green for a walk and a chance to blow the cobwebs away. The wind was rising, so there was a good chance that something would blow away.
We walked down to the west end of the park, turned and had the wind on our back as we took the path beside the river which was a dirty brown colour and with more than its usual shared of tree trunks, branches and dead crocodiles floating in it. When we got to the boathouse, we were surprised to find loads of 'oary boats' sitting outside it, all shined up and sparkling in the well filtered sunlight. There were also a lot more cars than usual beside the building. Surely they weren't going to have a race today down river into the teeth of a gale and all the while trying to avoid the obstacles in their path. While I was photographing the boats, Scamp was earwigging and heard that the start was to be at 1.30pm. We walked up to the suspension bridge and noticed that the Humane Society safety boats were out on the river and a few crews were practising. It looked like they were going to go racing today.
We decided that we'd go and have lunch in the Wintergarden and then perhaps, just perhaps, we'd come down and see if there were any of the silly buggers paddling down the murky waters of the Clyde. While we were waiting for our lunch (soup for Scamp, roll 'n' sausage for me) to arrive, I did a wee sketch. Facebook's '28 Drawings Later' is just around the corner, so it's time to get the psychomotor skills honed. It's not brilliant, but it's done.
With lunch done and dusted, we decided to go watch the nutters. There was quite a crowd on the bridge and Scamp engaged the bored looking man with the clipboard who told her that while we'd been stuffing our faces, the Division 1 race had gone down the river and that the Division 2 race was about to start. We waited and were soon treated to a quarter or an hour or so's of races. Some looked fit as fleas, some looked like they just wanted it to be over so they could stand under a hot shower for a while. I got some photos. I'd previously been shooting the water cascading over the tidal weir at the end of the course and the camera was set to shutter priority with a slow speed set. (Sorry JIC that was <Technospeak>. There will be no more. ) I thought I'd just wasted two shots, but when I had a look at them they were interesting in an abstract way. Set the camera back to a sensible arrangement and went on shooting, but halfway through, got fed up and went back to 'interesting in an abstract way' settings.  (It was one of those that got PoD – Bottom Right.) After the last pair had pulled themselves exhaustedly under the suspension bridge the crowds began to drift away to commiserate or congratulate their individual champions. Only the man with the clipboard was left, waiting for Division 3 to make their appearance. Having nobody to congratulate or commiserate with, we went home.
My marinade worked quite well. Too much olive oil and not enough herbs. Plus, the dinosaur bone really needs to be slow cooked. The 'sear then bash into the oven for an hour' technique didn't quite cut it. I have another plan, and another dinosaur bone too. I'm ready to try again.
Tonight the wind got even windier and I was glad we were parked up early, although one of the trees outside was making some dangerous sounding creaky noises. It's still blowing a gale now.
Tomorrow, it definitely depends on the weather, but no Gems! Hooray!