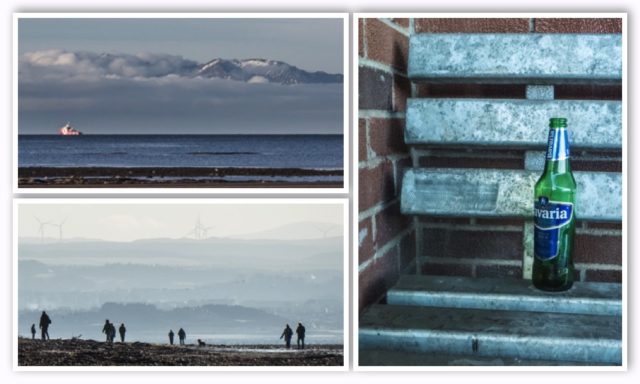 Today we went to the seaside.
We had decided that if the weather was kind to us we'd go out west and head for Troon. We walked in blinding sunshine along the beach for a mile or so with all the dog walkers and their assorted dogs. The sea was well out today, the tide must have been at its lowest point. Although the sun was low and very bright, it was cold but for once there was no wind. I think Scamp would have walked further, but I called a halt after about an hour and we turned and made our way back the same way we'd come. Scamp said it was just like being on the treadmill at the gym. I think that's the wrong way round. Surely the gym imitates life, not the other way round. Anyway, I've still to see this marvellous video attraction. Hopefully I'll get a chance to try it out next week and not have to tap the sand out of my trainers afterwards.
Lunch was in Scotts which is becoming a firm favourite. Every time we go there it's like being in the Crews Inn at Chaguaramas in Trinidad. The temperature is a bit different and the distant scenery is too, but the boats in the marina and the general layout of the place remind us both of a wonderful lunch and the most alcoholic sangria I've ever tasted. No alcohol today because I was driving, but Erdinger's Alcohol Free 'beer' is now top of the list for a beer flavoured drink. Food was Chicken Stroganoff followed by Seasonal Fruit Crumble for Scamp and a Beef Burger followed by Key Lime Pie for me. The whole thing rounded off with coffee and the shortest shortbread I've had in a long time. Lovely! Service could have been a bit quicker, but otherwise it was excellent. We both agreed it was a great day out at the seaside.
PoD was the red boat passing Arran, although it was a tough call between that and the people silhouetted on the beach. The bottle was just a fun grab shot for a Flickr group called One Bottle.
Tonight we made the decision and we are going on a cruise in the summer. Not a balcony cabin, but an Ocean View. Next best thing. Booked and deposit paid.
Tomorrow? It looks like rain, so we may be going more local than today. It all depends on the weather. How many times do I end a blog with that?