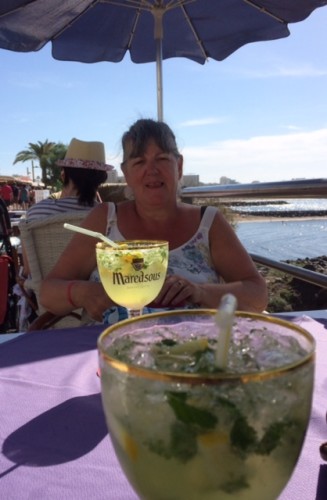 Today we walked to the shore and turned left. We walked along to Playa de los Americas with a stop on the way to take on beer. Scamp found out she had forgotten her top to protect her shoulders from the sun but, surprise, surprise she knew where she could get one.
Actually the day had begun earlier with a walk along to a local market which was more like "The Barras" as it used to be. Crowds of folk all jostling looking for a bargain, but not really expecting to find one. We didn't either.
Back at the Playa we were getting thirsty again. It's thirsty work this walking, you know. Luckily we remembered getting ice cream at a wee cafe and they had lovely looking mojitos, and that's what we had. They hit the spot perfectly. We walked back a bit and Scamp found the shop that sold scarves to protect shoulders and I found a nice Italian cafe that sold pizzas. Unfortunately the turned a blind eye to us. Maybe we didn't tip them well enough last time. Oh well, their loss.
We soon found another place and ordered a pizza each. Scamp's face when they arrived was a picture. The pizzas must have been about 18″ across. For what is probably the first time, I couldn't finish mine. After that it was the long walk home. I went for a shower and a snooze and Scamp went sunbathing. I joined her later and we had a last couple of swims in the icy water of level 5 pool. I stood and watched the paragliders coming off the hills. See me? See next time? I'm going to try that. DV of course.