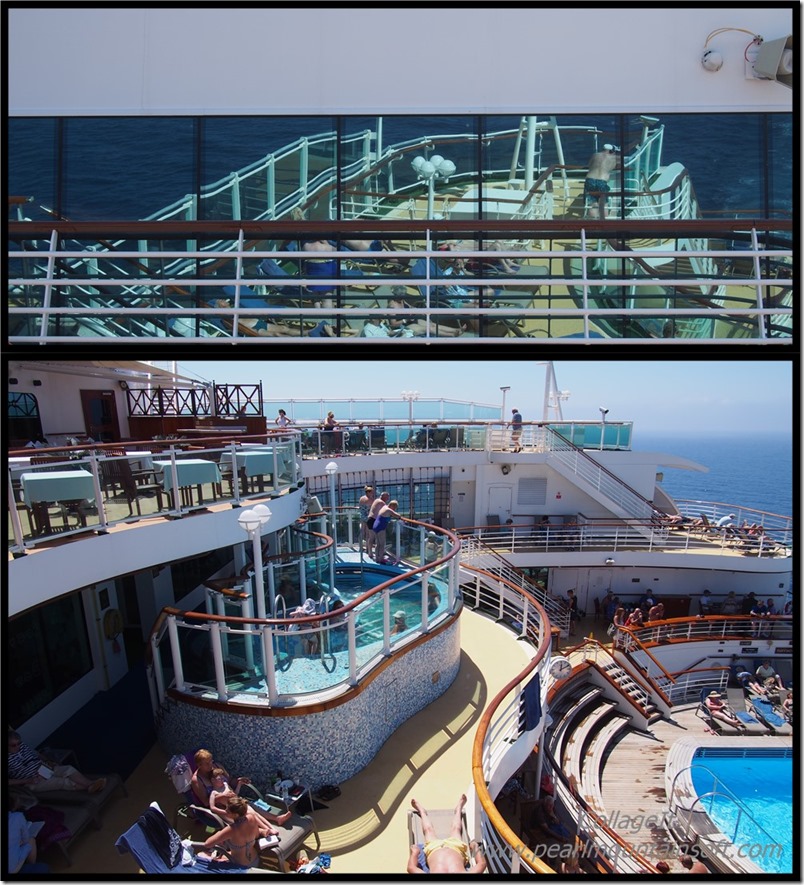 We had a mixed bag at the breakfast table this morning. All english and all patently ignoring us after we'd said our "Good Mornings". Maybe they didn't understand the accent, but the lower case 'e' in 'english' should give an indication of their standing in my eyes. I decided to use their part conversations to start today's blog because you don't put baby in a corner. They will probably never read this blog, but you will and, are doing
Lady 1
"… He's not a lap cat. If you pick him up he bites you. Well, he bites me anyway …" I can see why madam!
Man 1
"Mum died a couple of years ago. We're cruising on mum. She always looked after us really well …" Too well, you ungrateful, ignorant idiot.
Lady 1
"… I have a disability …" <she pauses for effect>. Spoken in a 'bird with a broken wing voice.' Those wishing sympathy, please for an orderly queue behind this lady. By the way, being english is not a disability.
Man 2
"We've been to Rome. We've seen the Coliseum and the Parthenon …" Oh, so they've moved it from Athens to Rome? Is this to help clear the Greek debt?
Scamp keeps telling me off for listening in to other people's conversations, but sometimes they are hilarious.
Today was hot, so we wandered off in search of some shade, gave up and Scamp went off in search of two sunbeds next to each other and I packed my painting materials and headed to Deck 18 to learn how to mix colours, something I've been doing for years, ever since I got an Alwyn Crawshaw paint box in the '90s with only six colours and learned how to work with a restricted range of colours. However, I soldiered on and 'learned' that blue and yellow make green! Who knew? Then we discovered that if you add a two contrasting colours together you get mud. This really is a very basic art course. There may be a few beginners, but not enough to necessitate this 'Topsy and Tim' approach. On Saturday (the next sea day) we get to paint a sunset.
Once the turgid lesson was over, I found Scamp at the stern of the ship where she had acquired two sun beds. We did a bit of sun worshipping under a hot sun until I deemed it time for lunch. Salad and cold meat for me. Salad and fish for Scamp. We went back to the room after lunch for Scamp to compose herself for the afternoon ballet lesson and I had a snooze and also finished off yesterday's washing in the tumble drier. After that it was back to the stern again and more sunbathing (it's a hard life this, don't let anyone kid you that it's all plain sailing!!

) and I went for a dip in the pool too.
Tonight was a Black Tie night, so it was kilt and waistcoat and jacket and all the gear. I don't mind it, in fact, I'd go further and say I really enjoy the kiltie experience. Our cabin boy, Jemmuel who may possibly be gay, seemed entranced with the sight of me in the kilt. The night was marred slightly when we came out of Metropolis on deck 18 and bumped into a drunk scotsman (see, it applies to Scots too) with his "Hey Jimmy! Like the kilt". I didn't give him air time, but foolishly Scamp replied. That made him think he was Billy Connolly and that he had an audience. He claimed he'd been drinking coffee, but when he terrorized a wee girl with her mum in the lift and then went on to say loudly "I'm gonnie fart!", I thought, "Dobber!" It's not only the english we have to avoid. Unfortunately we have scots to avoid too. Both sides of the border have their 'stupids'. They walk among us.
Ville Franche tomorrow. May get the train to Monte Carlo and try to post the blog there.