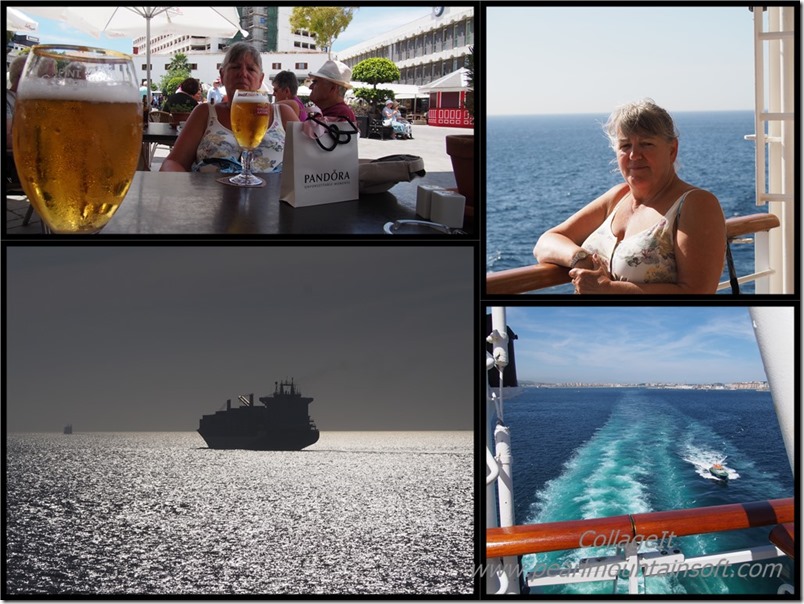 Today we were back in the UK sort of. We were really in Gibraltar which seems to think it's in the UK, even to the extent that there are "I'm In" stickers on shop windows and doors. It begs the question, why does the UK hold on to these tiny vestiges of its once great empire. Wake up and smell the coffee, people. The empire is no more. The commonwealth is no more. In fact, the wealth is no more. How much money could we save by giving these enclaves back to the countries that really own them. Gibraltar is a tiny Spain-locked bit of Britain that we should get shot of. Likewise for the Falklands. If the people who live there want to remain British, let them return to the UK where they can enjoy the climate and lifestyle they talk so much about. I've never seen so much jingoism as you get in these far flung places. That said, the booze and fags are cheap. Not so much the electronic goods. I wanted to buy an extra SD card for my camera. At home in Glasgow, a Toshiba 16GB micro SD cost me £4.95. In Gibraltar, the best price I could get was £10. Exactly the same card by exactly the same manufacturer and exactly the same speed. Twice the price. Cut price booze, hiked up price for electronic consumables. I don't like Gibraltar, I'm sure you're getting that vibe. It's more English than England and it smells of pish. Yes, that about sums it up for me.
The ship arrived at 11.15am and was ready for disembarkation by 11.30. There were three gangways in place, two on deck 4 for all passengers and one on deck 5 not suitable for wheelchairs. So why is there a prick in front of us with a wheelchair trying to get it down the steps from deck 5. The steward had already told him that it was unsuitable for wheelchairs, but still he continued. These people are not born stupid, they have made a lifetime study of stupidity and have achieved a masters degree in the application of stupidity. Anyway, nobody helped him with his wheelchair which was for another passenger who had already disembarked and eventually we all got off then headed down the long trek to the town. Most of the shops were open, but M&S, BHS an C&A were closed because it was Sunday, or there was a cruise ship in, or it was a day with a 'Y' in it. Who knows? I didn't care. I wanted to stretch my legs, post my blog and possibly get a memory card for my camera. Managed two out of three. Walked the length of the high street, which ticks off item 1. Had coffee in Costa and achieved item 2 courtesy of their free WiFi. Due to the price locking of all the Indian and Pakistani electronic salesmen, I couldn't achieve item 3. No big deal. I got a nice bottle of whisky and Scamp got a nice bottle of gin for the price of a smaller bottle of the same whisky in Tesco back home. Scamp also got a new Pandora bracelet. We headed for the sanctuary of the ship.
Had lunch at "Smash & Grab" and saw a Globemaster military plane landing at the airport. Scary looking dog-leg to final! It was while we were having lunch that the Elbow track came over the tannoy. I just thought "one day like this a year will see me right" summed up this bright sunny day. After lunch we were lucky enough to get a sunbed by the nice wee pool at the back of the ship. Soaked up the sun there until about 5pm when I went to put some washing in the laundrette machine.
Dinner was in the Indian restaurant and it was really, really good. Most impressed, as was Scamp. After that we found a couple of seats in the theatre to listen to a NZ tenor sing. That's the second time I've heard him and I was impressed. I'm not a big opera fan, but I did enjoy it. After that we had a drink in the 'Crows Nest' or whatever it's called on this ship before heading for bed.
Another day at sea tomorrow.
u