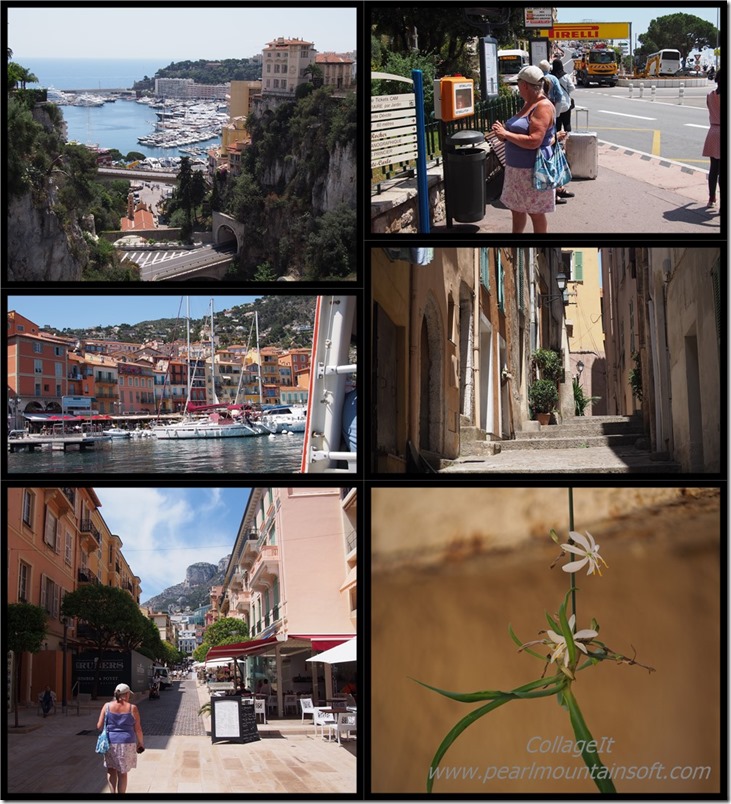 Last night was a wild one and no mistake.  50mph winds and heavy seas.  We're down in the bowels of the ship and therefore we feel it the most.  Last year we had the room below the kitchen and this year we have an even noisier room.  Worse still, the weather is to be equally bad tonight.  Oh what fun.
We were up and out early this morning and waiting in line for our ticket to freedom.  Ville Franche is a small town and the dock area is nowhere near big enough to take a ship the size of ours, so we are ferried off with a tender.  To achieve a semblance of order, you have to queue for a number.  Once you have this you have to wait in one of the restaurants or bars for a tender to become available.  Since there are around 2000 people on board and a tender takes less than 100, it can take a while.  The tenders themselves have to obey the local speed limit of 5 knots in the open water of the bay and 3 knots nearer shore.  This means the transfer takes even longer than it needs to take.  French rules apparently.  Also, because the tenders are constantly travelling there and back, they occasionally need refuelling.  It was going to be a long morning.  Actually, the girl who was giving out the tickets estimated an hour and she wasn't far wrong.  One of the blessings of tender departure is that there are no bloody motorized wheelchairs or scooters.  These things are not only a menace, they are a downright danger in the close confines of a ship.  I understand the need for wheelchairs, but the amount of them, and the bloody bleeping scooters on this ship drives me to distraction.  I was standing in a bar tonight and some idiot decided to park their son's scooter right behind me then proceeded to get shirty when I wouldn't let him drive over me.  Apparently I should have had eyes in the back of my head!
Once we got our tender across to Ville Franche, we were on one of Scamp's route marches to the station to get the train to Monte Carlo.  Train took 15 minutes to travel the 9 or so miles  to the millionaire's playground.  Once we got off, we followed the crowd up the stairs, up the escalators, up in the lift and out at St Devote corner, famous to F1 fans.  We walked down the street, down steps, down in a lift and on to the harbour where we had a pizza each, shared a carafe of wine, and with free WiFi got two blogs posted.  Then we headed back, thinking that we'd need to climb up the near vertical streets to get back to the station.  Then we met an Indian family who had been on the train in.  They had found a much easier alternative route.  This took us from street level along a gentle incline on a travellator directly into the station.  Superb.  No climbing necessary.
Back in Ville Franche, we wandered round a market, I took some photos and we headed back to the ship.  After an hour or so of sunbathing it was time to get ready for dinner.  We sat with a cheery Yorkshire contingent who were on their first cruise, and they kept us amused throughout dinner.
Afterwards, we went to see the Piano Brothers second performance of the week and then had coffee in the buffet on 15 before turning in.  It's getting a bit noisy now with crashy waves, so I'm off to get a few hours shut eye because I didn't sleep much last night.
Tomorrow is Livorno, an old friend.  We both like Livorno with its canals and markets like The Barras.
This blog upload courtesy of Grand Bar in Livorno.