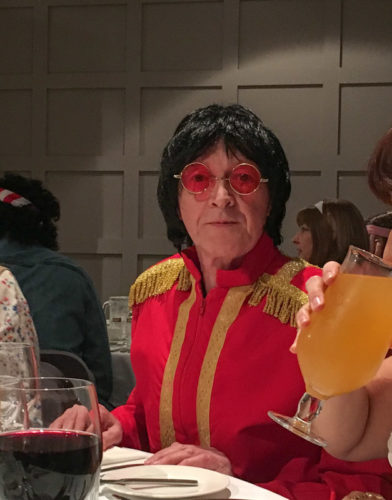 Today we were up early, bags packed and out by 11.30 for our trip to Strathaven, posh centre of South Lanarkshire.
We were off to the Strathaven Hotel for a day of dance workshops (boiler suits not compulsory). Decided that through Hamilton was the quickest way on a normal day, but given it was a Saturday and around midday, it would be chaos. So we headed for the scenic route up to Canderside and then through Stonehouse and Strathaven itself to the hotel which used to be in farmland through an avenue of trees, but that was fifty odd years ago. It took a bit longer than I'd anticipated, but we found the hotel without any problem. There were a few trees left standing, but hardly an avenue. The farmland was gone, of course, covered with private housing and a primary school. The hotel looked fine with a modern restaurant extension to the existing old building.
Booked in and found our way to our room through the tortuous labyrinth that you'd expect in an 18th century country house hotel, and then found our way back to the ballroom. Wishing all the time that we'd had the forethought to lay down a path of breadcrumbs! Nice large and intimidating ballroom with the equally large and intimidating Diane! One of those people who stands right in front of you invading your space. An alpha female if such a thing exists.
The workshop started with waltz with only four couples. Scamp and I both agree that we learned a lot. Then a short bit of quickstep, concentrating on the technical part of the 'fishtails'. In jive we did a Boston Cross or Kick ( the jury's still out on the exact name) and the Four Chassis. Both of which have now slipped my teflon memory (nothing sticks!). Then lunch. We waited over 40 minutes for a small plate of sandwiches. That seemed to be par for the course, because other people sitting near us complained about the wait too. Overwhelmed or understaffed it was difficult to tell.
Back in the workshop Diane's contingent had arrived and the room was filling up. We were told to simply dance a waltz to warm up. This was our first time attempting a waltz in real ballroom and we both made a hash of it. It was obvious that the Diane's class were much more practised practitioners of dance. Everyone was dancing sedately around us and giving us a wide berth, obviously realising we were just learning. We should have worn "L" plates, or at least "P" plates. However, one idiot in particular decided that he and his partner didn't need to follow the anticlockwise rule and started zig zagging across the dance floor. One time in particular, just as Scamp and I were getting our feet sorted out, he landed right in front of us and we had to do an emergency stop. Then they were off again in a different direction and at top speed. Powered by Duracell. He was a bit like a dragonfly in that he seemed to move only in straight lines at really high speed. However his irresistible force met an immovable object. Me. I just got so pissed off with this unnecessary show off that the next time he shot past us and tried to move off in another direction, I moved over into his path and crashed into him. I apologised and then we staggered our way further around the floor. It was an accident, honest 😉
When the next workshop started it was obvious that we were far out of our depth. This was Diane time. She had already stamped her authority on this group, her group. She shouted and postured and shouted some more. We watched for a while then went up to the room to read for an hour or so, since it was dull and wet outside and worst of all, I'd forgotten my camera.
Dinner was a protracted affair. It took over two hours from Starter to Coffee. Food was quite good and well presented, it was just the time lag in between courses that made the whole thing tiresome. Even more tiresome was the dancing afterwards. No salsa, very little jive. This was the Diane's Dance Show aimed fairly and squarely at her own group. We waited until the end and did manage to dance salsa to one of the tracks and also performed our version of the Seven Spins, but didn't really attempt any ballroom. More practise needed there. However one of our dinner companions provided PoD. He did look very like somebody from the '60s, and his name was, in fact, John!
Dragged ourselves off to bed. As I climbed the stairs, I thought "That's twelve hours of my life I'll never get back."
Tomorrow we'll have breakfast and leave this sorry place.