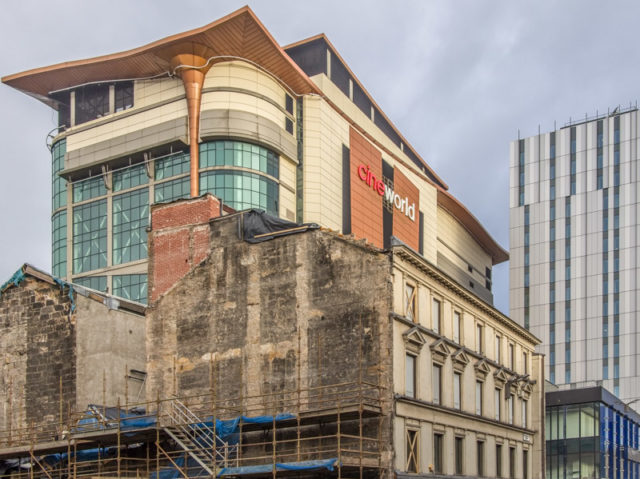 Today we were going in to town to get me more highland dress stuff.
Came out of the JL bridge after getting the compulsory photo of the Glasgow skyline and noticed a sale in the Ecco shop. Initially I was interested in a pair of boots to replace my old leaky Clarks pair. Then I saw a pair of black shoes which looked wearable and actually had a fair bit of tread on the soles. The upshot was I got the shoes and left the boots for another day.
The Lakeland shop is on that level of Buchanan Galleries and it was my next target. I'd asked Santa for a pasta machine, but lots of other boys and girls had been asking for the same thing and there weren't enough to go round. Maybe Santa's little elves would have been busy making more and put them on the shelves of Lakeland (cheapest place for a pasta machine). Yes! They had the very thing in stock, so I grabbed one and asked if we could pay for it and collect it later. Heavy beasts these pasta machines. Next, the object of the exercise, a new shirt and a belt for wearing to the ceilidh tonight.
We went to McGregor & McDuff in Bath Street, because that's where we bought my kilt four years ago and we've always had good service from them. We could have gone to the House of Tartan which is a 'cheap and cheerful' chain which seems to be run by Indians or Pakistanis, but the prices were about the same in both establishments and the quality in McG&McD looks that little bit better. Today I was to be getting a Ghillie's shirt (I hoped the ghyllie in question didn't mind) and a belt for my kilt. Belts, along with braces sometimes, are usually used for holding things up, but in this case they are purely decorative but, thankfully not too expensive.  After that it was lunch at Verona, Italian of course and very nice too.
The salsa ceilidh was actually called The Tartan Ball and was held on Burns Night. The only rule was that you must wear something visibly tartan. The kilt ticked the box for me, but Scamp was scrabbling for something for her. She finally settled on a navy and white checked dress for a fiver and remarked that if she didn't like it when she got it home she'd wear a thistle wrapped in tartan ribbon on a tee shirt. She didn't like the dress when she got home, so the thistle and tartan ribbon was indeed the face saver.
I'd not been looking forward to the salsa ceilidh, but as sometimes happens with these events, as the time drew closer, it lost some of its dread. We drove in to Glasgow about 8pm and missed the turning off Clyde Street, exactly as we did last Christmas and had to rely on the Juke's satnav to get us out of trouble again. Again it did exactly that and directed us to the wrong carpark for the second time. Two Q-Parks within 100m of each other seems daft to me. Anyway we were parked and under cover.
The salsa part was great and we danced a fair bit. The ceilidh was equally good with a real ceilidh band and caller! The caller did a wonderful job of instilling some order in the inevitable chaos. After the band, it was back to salsa again and I was danced off my feet by the end of the set. We left around 11pm because we have an early rise tomorrow.
Home and a wee dram to cure the ringing in my ears and the aching in my bones, then bed.
Today's PoD is of a variety of architectural styles as viewed from Sausage Roll Street in Glasgow.
Tomorrow, hopefully we'll be taking part in a workshop without the need for boiler suits or heavy machinery.