It actually started out quite clear and not all that windy – no rain at all. Looks like the weather folk got it wrong again. Got up and did some washing – yes, I can work the washing machine, I just can't or won't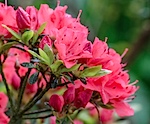 grasp the technique of ironing. Breeze was getting up, so I hung out the washing to dry. My talents are almost endless these days. The sun came out for a while and I took the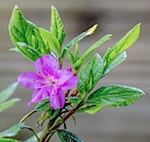 opportunity to grab some shots of the azellia's that are in full bloom just now. The red ones are Scamp's favourite flowers in all the garden. The blue one is a new plant for this year. Not many flowers, but it's early days.
My head was not in a good place this morning for some reason. Just felt a bit down. Later I remembered why. Tomorrow is a fasting blood test, so that means nothing to eat after 9.00pm and only water to drink. How is a man supposed to exist on that? I just keep thinking that after 9.10 tomorrow morning, I'll be back to a sensible diet. Where I can eat anything I like – in moderation. Moderation being a country I'm usually a stranger in. I hate the fasting for the blood test. I always feel hungry just after the curfew time, no matter what I eat before it. However, it has to be done I suppose. I did a small preparatory sketch for a painting of Trumpan. It's a view I've done before, but in acrylic, not watercolour. Still impressed with the water brushes and the new artist's quality paints.
Today being Monday, Scamp had her ladies round for a practise, so I vamoosed in the general direction of the gym for an hour. That sounds really good, but it's half an hour in the gym and half an hour in the steam room and the sauna, with maybe a splash in the pool to loosen up in between. When I came home I just had time to bring in the washing before the heavens opened. By the time we were going out to Glasgow for tonight's classes, the rain was torrential. Black clouds clogged up the sky and the breeze had strengthened to a gale. Maybe the weather folk weren't so daft after all. To cap it all, two hours later, when we were driving home there was a beautiful blue sky. Still a bit cool, but dry and the wind had disappeared again. It really is crazy weather these days, but it's Scotland – Four season's in one day.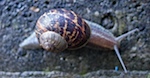 When we got to the house, I saw this big giant snail. I don't know where this guy overwinters, but he arrives on our doorstep – literally – every year around this time. He's quite a big fella now and he usually has a tryst with a lady snail in the flowerbed. Unless this is the lady snail …
Just as I am finishing off this blog, the wind is getting up again and the rain is starting to hammer on the windows.  I really should listen to these weather folk.  They do know what they are talking about.  Off to bed now to dream of steak pies and pints of beer and other stuff I can't have until tomorrow!