Up and out to get the blood taken, then home for a plate of porridge. Lovely warming and more important, filling. On the way to the health centre I had a letter to post. I was walking through our wonderful new shiny shopping centre (spot the sarcasm?) and couldn't find a post box. Surely they would put a post box in the new shopping centre? You'd think they would, wouldn't you? Nope. Not a one. I asked one of the security guards and he couldn't think of one either. Then one of the cleaners put us out of our misery by informing us that she thought there was one about a half a mile away in a remote part of the labyrinth that is the old town centre. Unfortunately, I only had 15 minutes until my appointment and hadn't brought a torch with me or serum against the venomous giant spiders that live in the dark nether regions of the centre, so I had to wait until I went to Tesco. At least they are thoughtful enough to put a post box in most of their stores. Don't people write letters any more?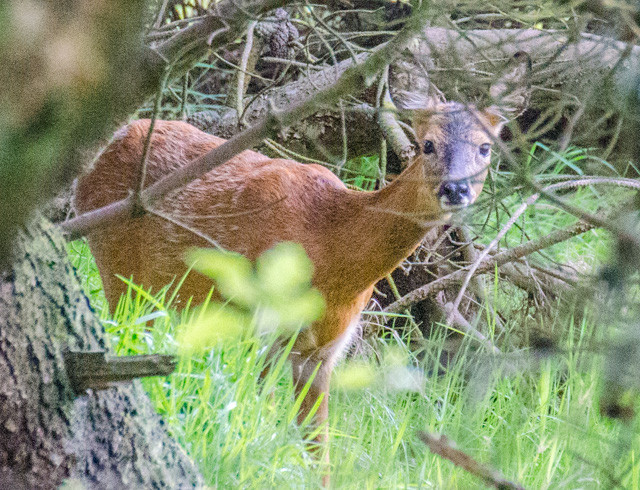 Couldn't settle down to do any painting today, so I just slouched around until Scamp came in from work because the rain was coming down in torrents. It was also coming down here, where I was. (that was a joke – ok?) Today was Scamp's day at the gym, so, as the rain had stopped and the sun was attempting to put some light on the subject, I went out and took some photos. For some reason, the cantankerous Tamron 70-300mm was in a good mood and was willing to play nice. Walking through the woods I chanced upon a young doe. I think I saw her just as she saw me. We had a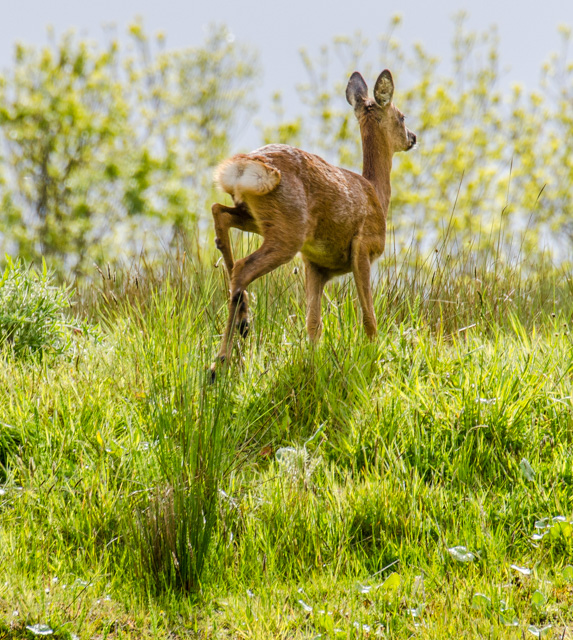 standoff for just a few seconds, then she was off, but I managed one good clear shot of her. I was pretty sure she hadn't gone far and sure enough I caught up with her, but she was up the hill and away like the wind. Her coat was a beautiful chestnut brown which glowed in the sun. This time I had switched on motor drive and got a few more shots to work with later. Headed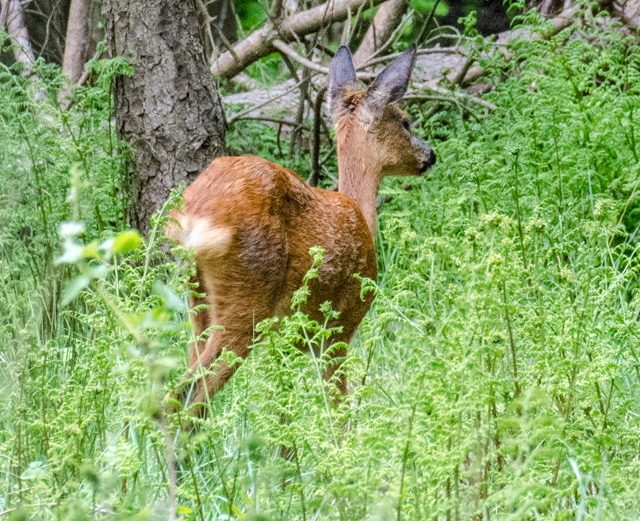 back home and caught up with the same deer again. This time I was upwind of her. She knew there was someone near, but she couldn't see me. Her tail constantly twitched before she decided that hiding was better than standing in the open. Again, like once before, this deer knew she was safe as there was a burn between us. Even so, she only waited a few minutes before leaving for good.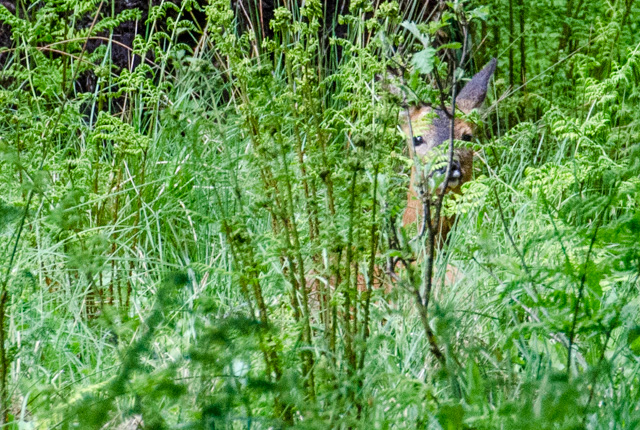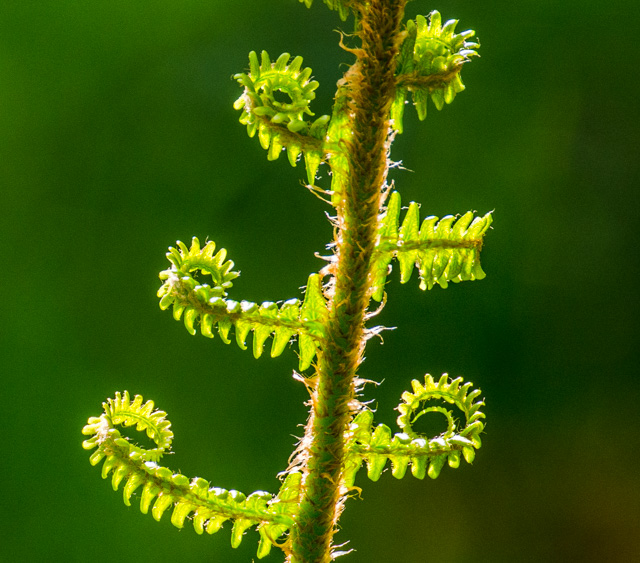 The excitement was over for the day, but the photography wasn't. I saw this fern backlit by the afternoon sun and tried a few contré jour shots. I liked the translucent green of the
fronds against the dark background. It looked to me like a green Curlywurly. Scamp was quite impressed with the fern, but said the bluebell flowers were her favourite, so that one is for her.
By the time the I got home the weather had calmed down a little more rain, but lessening wind. Tomorrow it's forecast we'll have temperatures of around 17ºc. Let's hope the magic fairies in the weather men's house have been whispering the truth in the weather men's ears. That's how they forecast the weather, you know.
One last thing. On the day when the ex Lib Dem MP Charles Kennedy died, I thought it was crass of the BBC News to headline with the fact that some Swiss football official had stepped down from his post before he was pushed.
What's more important, a man's life or an official's career? Fin.