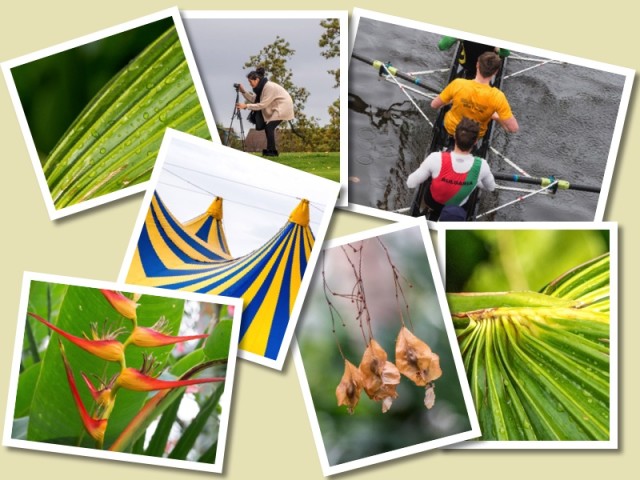 Thank goodness we had an extra hour's sleep last night, we both needed it. Two late nights in a row does take it out of you. Scamp wanted to go for a walk and we both agreed on Glasgow Green. It's ages since we'd been there. It hadn't changed much, although there was a gigantic big 'circus' tent in the middle of the green. It turned out it was really a gigantic big 'beer tent', part of Oktoberfest Glasgow 2015.
We walked around the 'Barras' too, and that had changed quite a bit. Bill's Tool Store was still there with everything from a needle to an anchor and everything else in between. However, only a very small percentage of the original outside stalls were still there. Yes, the "tabacca" (sic) sellers were still there and yes, the DVD sellers were there too, but where were the hawkers who sold the curtains, the carpets and the car cleaner? We went inside and it too was only half full. Some of the stallholders I remembered from the days Val and I cruised around the stalls looking for Public Domain copies of Atari and Amiga software, but very few. Loads of old faces, people who had worked the Barras every weekend. It wasn't the same, not nearly the same. Quite a sad place now dying, but fighting all the way. There are still bargains to be had. I got the 'gilet' I'd been looking for with lots of pockets – you must have lots of pockets when you've got lots of phones. I got it for a very good price too and it was new and possibly not 'knocked off'.
We went back over to 'The Green' and watched the students rowing on the Clyde. The river was full today. Single sculls, pairs, fours and eights. I don't think I've ever seen so many on the river.
Lunch for me was a roll 'n' sausage (medium rare) and for Scamp was a round of toast in The People's Palace. Then I went for a wander round the flowers and plants in the Wintergarden. There are always photos to be had in this place, and I wasn't disappointed today.
Used my new phone card at Tesco to put a tenner on my phone and Tesco kindly boosted that with another £20. Impressed with Tesco so far.
Click on the mosaic as usual to be transported by the magic of the internet to my Flickr page.