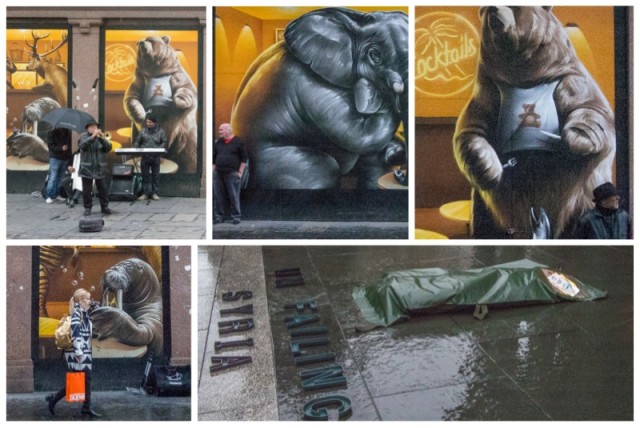 I had intended to get the bus in to Glasgow today.  Not for anything in particular, just for a walk and a bit of window shopping.  I then noticed that I'd just missed the bus and the next one wasn't for 30 mins.  I decided on the spot to drive in instead.  30 mins until the bus then a 40 min bus ride into the city = 1 hour 10 minutes.  Drive in and be there in 15 minutes.  No Contest.  Ok, the bus is free and the parking will cost about a fiver, but still No Contest.
I had a walk down Queen Street to visit the two art shops there – Ok, I wasn't really window shopping, I was looking for a portable watercolour paint box.  Wasn't sure if I wanted to pay the price tag for the paintboxes in those shops, so I walked on to Millers or whatever its name is now it's been taken over by an Edinburgh operation.  On the way I passed the wee jazz band busking in Argyle Street and playing their heart out.  As I walked past them they started into "Singin' in the Rain" and the heavens opened … and forgot to close.  Wish I hadn't dropped a couple of quid in his hat.
Millers didn't have the paint box anyway, so I went back to Queen Street and paid the price.  On the way there, I waited a while to see if I could get any interesting shots against the giant animal posters.  Managed to get a few, then on to Queen Street.  After I came out of the Art Store I crossed to the GOMA.   As I was walking past the GOMA, this punter puts down what looks like a bodybag and proceeds to get into it and zip it up (Zips inside a bodybag??).  On closer inspection it was a suit bag.  I thought "ok, one photo" because this guy is a pri**.  The last two letters are 'k' and 'c', but not in that order.
Soaked, I got to the car and drove home.  It had cost me £6.00 for the parking, but at least I could drive home in 15 minutes and get dry, rather than wait for a bus and then have to sit in damp clothes for a further 40 minutes.  That's why I use public transport occasionally and drive the rest of the time.