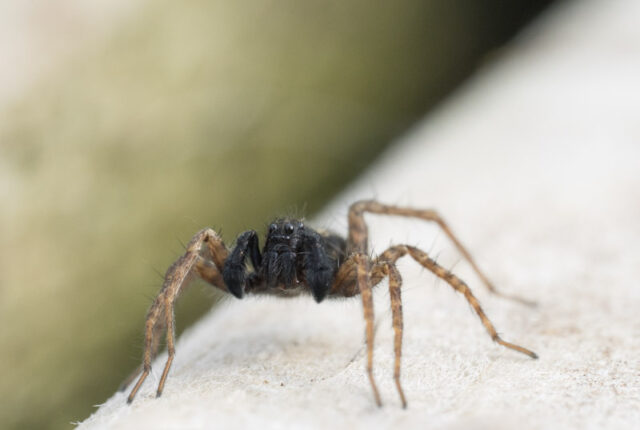 The fish van was coming today.
Actually it was the DPD van that was arriving today within a one hour slot around midday. It arrived and a lady delivered a big expanded polystyrene box which Scamp quickly opened and decanted the Haddock, Cod, Crab, Scallops and Smoked Haddock into the freezer while I played with the packets of dry ice they had been packed in. It's amazing stuff and although I've seen it in stage shows and such, this was the first time I got to touch it. It was cold! Of course, once you read the warnings on the packet, you learn not to touch it with bare hands. But where's the fun in reading instructions when you can be playing with the stuff. I got some amazing effects from dropping hot water on to the little pieces that were all that were left in the bags after their overnight journey from down in the depths of England. Little spheres of water would levitate above the solid CO₂ for long enough to photograph. I even got a CO₂ bubble to form with the gas swirling inside. Unfortunately it didn't last long enough to get a photo. We must buy some more fish soon so I can be prepared this time and create some more special effects. Who knew science could be so much fun … as long as you read the instructions and warnings first!
It had been another beautiful morning with blue skies and bright sun as predicted by the weather fairies last night. By the time Scamp had put all the fish away and I'd finished playing experimenting, the clouds were encroaching on Cumbersheugh, also as predicted by the weather fairies. Scamp walked down to the shops in the morning while I removed the rear number plate which had been hanging on by one 'Sticky Fixer' for months.  I cleaned up the plate and the space on the car where it was to go and replaced it with three new stickies.  After that I took my trusty Sony with its heavy, but excellent quality macro lens for a walk in St Mo's. Found a few things, but best shot of the day by far was the spider defending its territory on the boardwalk. That got PoD. If you view the bigger version on Flickr you'll see that there's a reflection of me in the spider's large eyes.
Dinner tonight was supposed to be Spaghetti all'Amatriciana but it turned out more like a rather hot veggie chilli. Too much chilli flakes I fear. Scamp said she didn't know how it tasted at first because her mouth was on fire. After a while it calmed down and she said it tasted ok, just too hot. Just a pinch of the fiery flakes next time, then.
Watched another Line of Duty tonight and it posed more questions than it answered. Who did what to whom and why didn't anyone notice a gun battle? Or was that last week?
Spent an hour tonight checking that everything was packed in safely in the big box, then sealed it up and addressed it. DPD person will arrive tomorrow to take it away to give to some lucky girls and boys who, I hope will get as much enjoyment out of it as I did once they fork out some money to MPB. Hopefully the man at MPB will give me some money too for being so kind as to send him my camera and lenses.
Tomorrow doesn't look as good as today, but that doesn't matter really because the DPD pick up will be somewhere in the range 9am to 6pm. Hopefully we're not waiting around for all of those nine hours! I'm sure there will be lots of other things to do.