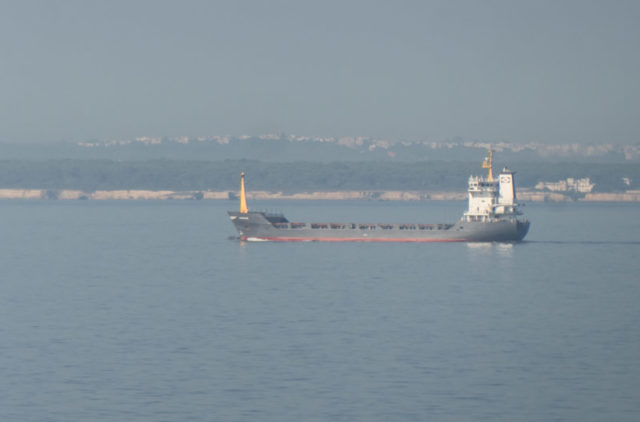 And another beautiful day it was too.
Nothing to do except pack and we weren't going to rush into that, thank you very much. The sun was out and we were going to make the most of it, because who knows when we'll see it again. After all, the sun shines a lot in France, Germany and Spain, not to mention Greece and Italy. They're all in the EU, so when Brexit happens will that mean there will be a 'Hard Border' between us and the sun? Will the Italians and the Spanish want to keep it all for themselves and won't want to give any to us poor Brits? I hope not, but just in case, we were going to grab our share today. If we could find two sun beds together, that is.
We finally settled for a couple of beds up at the sharp end of the ship (Technical Term). Hot sun and a cooling breeze from the ships onward passage. Spent most of the time there before we resigned to the inevitable and went to start the packing. It was amazing how easily it all went in to one brown cloth case and one blue one. Quite remarkable. Also remarkable was that they weighed only a kilo or so more than they had when we'd dragged them to the airport two weeks ago. I'm not sure we'll be able to say that about ourselves. If I've only managed to put on a kilo this fortnight, either it's a miracle or it's time for a new battery in the bathroom scales. It's actually more likely that it will say "One at a time, please!"
Dinner in the sit-down Ligurian restaurant where we were "happy to share". Had what must have been the worst steak of the holiday. It was meant to be a Rib Eye, but was slathered in a sticky brown gravy, so it was difficult to tell. Also it was tough. Getting to the end of the cruise and the bottom of the barrel of cuts of meat, perhaps.
Finally we retired to the balcony with a double gin and our own bottle of tonic to listen to the waves and watch the stars. I know where the Plough is now. If you ever read this Alex, I hope you're impressed. That's one thing I really enjoyed this trip was the walk on deck to see the Milky Way and watch that green laser dart about the sky. So many other things too. Maybe they deserve a blog post of their own. Lastly, I must thank Scamp for putting up with my crabbit face and bad dancing. You made it all worth while. I thank you, love.
PoD was a merchant ship we chased and beat on the slow race to Malta.
Tomorrow will be a long day.