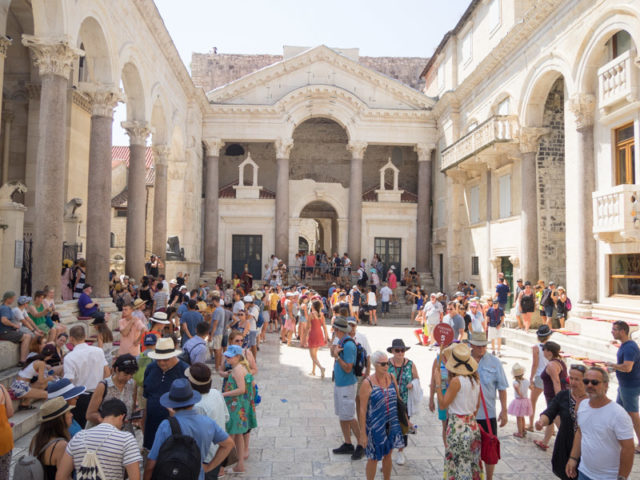 Because of our late departure from Venice and because, Cap'n Bob said, of traffic on the sea lane from Venice to Split, we were late arriving in Split. The sea was calm, almost flat calm and … was that a dolphin just breaking surface?
I got a lovely shot of where the dolphin had been, and maybe just the ghost of a grey object below the water, but it wasn't until we were home that we found Scamp had actually captured one of the mammals with it's fin just breaking the surface. A lucky shot, but luckys count.
We'd been to Split before and weren't impressed. If you follow Game of Thrones, there are places you'd love here, be as we hadn't ever watched a whole episode, it was just another ferry port to us. However as a preparation I'd watched a short YouTube video about the town and found that we'd missed the main part of the town, the new part, not the old town. We were berthed at the very edge of the dockside and had miles to walk in to town. Not that it mattered and we had all day to pass in this place and it was the last port on the trip, so we'd make the most of it and the heat. I found a tea shop, i.e. a shop that sold dry tea leaves. Got some Assam and some fruit teas too. Found some impressive looking wide piazzas and squares also an old elegant looking opera house. Lots of shops and then we were in to the old town with its teacup water fountain. The forum was mobbed. It seemed that everyone had decided to descend on it today. Maybe it's like that every day. It looked very grand and the two punters dressed up as Roman centurions were doing a roaring trade fleecing the punters for €5 a time to get their photos taken with them. Walked through an old market area, had a beer in a dockside cafe and then back to the ship.
Spent the afternoon lounging on the balcony watching a group of boys daring each other to jump from higher and higher places on the cliffs into the sea. That and watching another group swimming with two dogs that seemed inexhaustible climbing on rocks and swimming. I must admit I was tempted to go for a swim myself. The water looked a beautiful green-blue colour. However, I left it too late and then it was time to leave Split for the long run down the Adriatic into the Mediterranean and on to Malta.
One final dinner in Cafe Jardin, but no dancing tonight. Already our thoughts were turning to the packing we'd have to start tomorrow, but not before we had a G&T on the balcony and watched the stars.
PoD was the Forum filled with people. Is this how it would have looked in Roman times? Probably something similar.
Tomorrow is a final sea day.