Scamp decided that we'd go in to Glasgow today and she would drive for a change. I phoned Merchant City Cameras and my Tamron lens was back, so we were good to go. Lunch at the Cranberry cafe we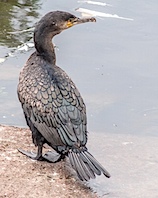 were at a few weeks ago and then a bit of shopping before walking back and picking up the lens. After that, we went for a walk around Glasgow Green. Saw a cormorant by the bank of the Clyde. Haven't seen any on the river for a few years.
When we got home I put the Tamron on the Nikon and took it out for a quick run through. I cycled to the place I was at yesterday and the lacewings were there in abundance (an abundance is a disco in a bakery if my memory serves me right). They seemed a good subject for the repaired lens. I felt the action of the lens was a bit stiff and the focusing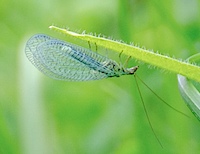 mechanism seemed a bit more stiff than it had been, but after looking at the results, it would appear that it is fixed, but only time will tell.
Weather today was much the same as yesterday. Temperatures in the high twenties and although there was some sun and a breeze in the morning, but by afternoon and the cycle ride, it was a lot duller, the wind had dropped and there was the threat of rain. Just spits in the wind, but there are warnings of heavy rain tomorrow.