It was a noisy night, with thunder and lightning in the wee small hours. Torrential rain too. Got up early and out to the optician in Larky (honestly, I think I'm up and out earlier than I was when I was working).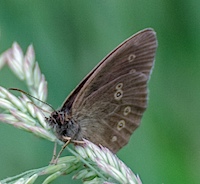 After the tests were done and the new reading glasses ordered, I waited until my eyes had returned to normal after the drops the optician had put in to dilate the pupils, then drove home. I intended to go in to Glasgow on the way, but couldn't be bothered and also my eyes weren't really ready yet, so came directly home. Scamp decided she wanted some plants for the garden, so we took ourselves off to Dobbies near Bearsden. Laden with horticultural species, we returned an hour or two later. Scamp was eager to plant out her plants – if you get my meaning. I felt that it was a bit late to get the bike out and took thelazier option of a walk around St Mo's.
I took the Tamron for further testing, but on the off chance that there would be dragonflies around, packed the 105mm macro lens too. Found a couple of butterflies, some damsels and a spider, but no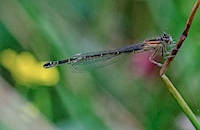 dragonflies. Packing the macro lens was a good idea, it beat the Tamron hands down, but then it is a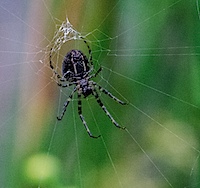 prime and a really sharp one at that. On the way home the rain started. It didn't last long, but at least it would help to set the new plantings for Scamp.