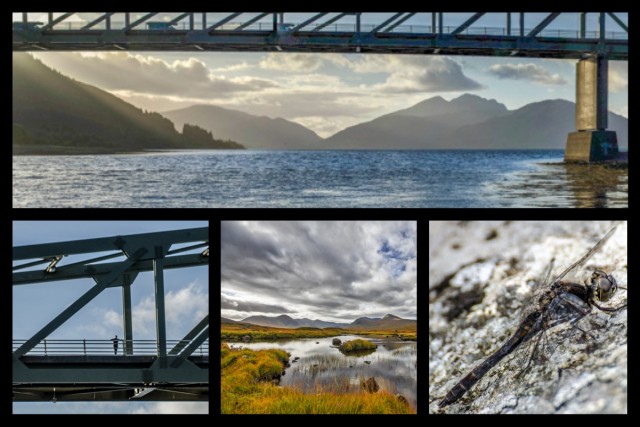 Left at just after mid day for the drive up to Skye. It was bucketing down. Hardly taking time to rain. By the time we got to Stirling it was easing off a bit and when we left the motorway for the Callander road Scamp said she could see blue sky. Sure enough, the clouds were lifting and the rain was easing off to an intermittent drizzle. For some reason, police were stopping south bound cars for what looked like a spot check at Tyndrum. Don't know why that was, but there was nothing on the north bound side. Stopped at Rannoch Moor to get some photos and walking across the long grass by the river, I saw (and photographed) a dragonfly. The climate is very strange this year. Dragonflies in October? Unheard of. Immediately after that I fell and twisted my ankle. I thought it was much worse because I heard a definite 'click' as I fell in a pot hole. Thought it might be broken, but although it's plenty sore, there's no swelling yet and I can move it. Silly auld bugger. Still, I got the shot I was aiming for, so it's all right. Sitting in the 'bunkhouse without bunks' at the Loch Leven Hotel. Actually very nice looking, and the bunkhouse, which looks like a converted out building is fine. May go for a walk later.
Went for a walk under the Ballachulish bridge and got some shots of the low sun. It was cold, but not freezing. Decided to go along the path to Bishop's Bay. The path was quite gloomy through a pine wood, but opened out onto a rocky headland. A woman we passed said we should risk the slimy rocks because the views over the top were amazing. So, I've got a dodgy ankle which is giving me gyp. I just stayed on the save ground. Nah, don't be stupid, there's photos ready for the taking there! Up and over the (not very) slimy rocks and through the oak trees at the top to see the glorious view up the loch. One of those places where you could just sit down and enjoy the light and the colours. Unfortunately, Scamp hadn't risked the (almost not) slimy rocks, so I had to grab a few shots and go back down to meet her before she got worried that I'd broken my ankle this time. Memorable.
Dinner in the hotel at night and a nice pint of micro brewery (actually nano brewery) IPA and a great waitress with a bit of a sense of humour playing vinyl albums because that's what they do on a Wednesday. Glad Scamp booked this hotel.
As usual, click the photo to see larger images.