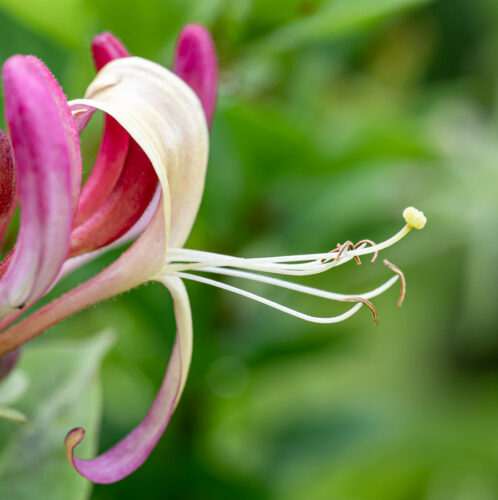 Scamp reminded me that eight years ago today I retired after thirty years a slave.
My good (for 'good' read 'only') suit was going to the dry cleaners today, hopefully to remove some mysterious marks on the jacket. Since the dry cleaners is next to Tesco, it seemed a shame not to go and get some messages and Scamp's meds. So we ended up with a fair load to bring back.
Back home Scamp started phoning P&O to check when we could book seats on the plane, only to find after 45minutes hanging on the phone that we do that through Jet 2. However, at least the procedure on Jet2 was really easy. One down. Next we had to get proof of Covid vaccination printed off. Two down, but still more than a few to go.
After lunch we went for a walk round St Mo's. Once round for Scamp and twice round for me. One of the little green spiders with a red spot near its spinneret caught my eye. Pretty colour patterns on a reed leaf also appealed, but it was a Honeysuckle flower I saw on my way home that got PoD.
Spoke to Jamie tonight and heard about gardening in that enormous garden of his. Also, preparations for moving to a new job are high in his mind.
After dinner we watched Andy Murray get safety through his first match at Wimbledon.
Not a lot done today, but important things ticked off the list. Oh yes, and Scamp has a tiny baby tomato on her plant!
Tomorrow's activities depend greatly on the weather.