Managed to get out for a walk this afternoon, judging it well to miss the snow showers.  You'd hardly guess from this photo that behind me the westerly wind was whipping a blizzard across the Campsie Fells.  Luckily on this side of the River Kelvin it was a bit more benign.  Only a bit 'though.  It was still pretty cold.  Thermometer in car read 4ºc, but when you take windchill into account, it was well below zero.  Thankfully I'd dragged out my winter Bergy jacket and fleece, but I still needed a wooly bunnet and leather gloves to  be properly insulated.  As well as the two trees shown here, I saw a couple of goosanders at Auchinstarry pond.  I'd had a go at capturing them with the Tamron, but it really isn't up to working at the long end of the tele at maximum aperture, so the image was good enough to ID them, but not nearly good enough to display.  Still, a good day out in the wilds.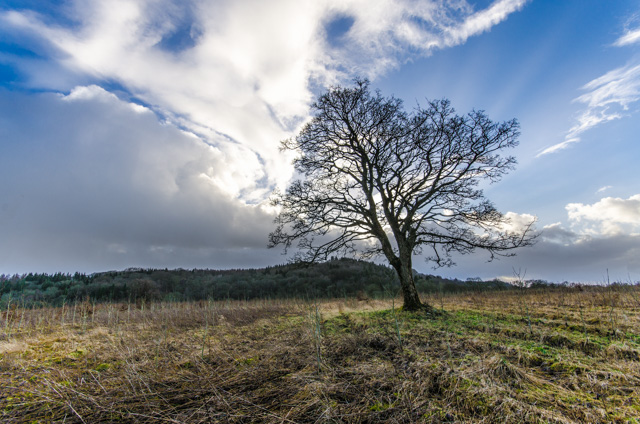 I liked the placement of the tree in the frame and the detail in the grass stems.  I did think it lacked a bit of life in the sky.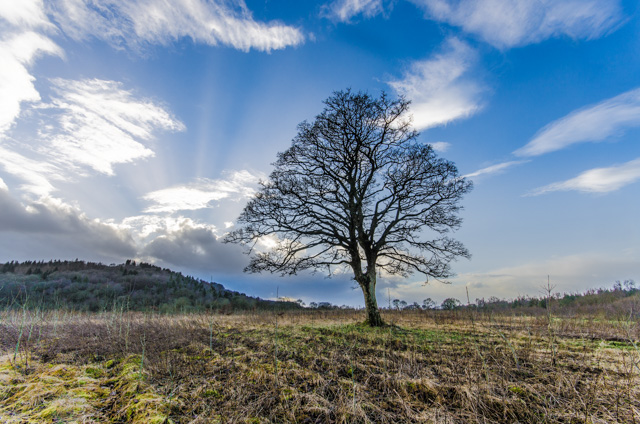 Same tree, but slightly different VP.  I made this shot POD because the plough marks lead the eye, not only to the tree, but also to the radiating crepuscular rays in the sky which was the life the previous shot lacked.
365/012