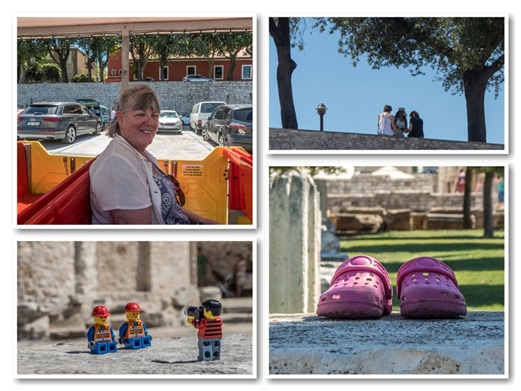 After breakfast in Smash 'n' Grab (self-service buffet) we caught the bus to Zadar.  According to Destination Services, it is 7km from the ship to the drop off point in Zadar.  It felt more like 7 miles.  I'm glad we booked tickets on the bus.
I wanted to see and hear the Sea Organ.  It's an 'installation' designed by a local architect called Nikola Basic (That's the basic spelling of Basic.  There's an acute and a little twirly thing ornamenting his name).  It is a set of pipes and whistles that produce random notes powered by waves pushing air through it.  I also wanted to see his Sun Salutation which has nothing to do with the yoga pose of the same name.  This one is a 22m diameter array of solar cells that capture and store the sun's energy during the day and then use that energy to power a light show when darkness falls.  I realised that I wouldn't be able to see the light show, but I wanted to see the setup.  The music of the Sea Organ was weird and quite unearthly.  the Sun Salutation looked like a 22m diameter piece of thick glass.
After having our ears assaulted by the Sea Organ I found I could get free WiFi and used it to upload the backlog of blogs.  Did I mention that it was hot?  It was only just after 10am and it was hot,VERY HOT.
We passed Mr Basic's creations and wandered down the esplanade.  We found a wee market selling souvenirs and assorted tat.  Through that there was a area of grass with what at first looked like gravestones.  On closer inspection we found they were the recovered ruins of Roman columns an panels.  Mini-me set up a photo of Shug and Tam on the top of one of them.  Also on display on the top of another one was a pair of Crocs.  They might have been of Roman origin or perhaps from an earlier time.
While I was wandering around and attempting to supervise Mini-me, Scamp was off exploring the cathedral.  She came back saying we could climb the bell tower.  Another one!  St Mark's square yesterday wasn't enough.  She had to climb Zadar Cathedral bell tower.  We paid our money 15kn each and started up the first stair which was very narrow and the treads were made of marble that had been polished and hollowed by many feet before ours.  The tight little marble stair led up to the first floor landing which contained copies of architectural drawings of the tower and a potted history.  We pretended to read it, but really we were just getting our breath back.  Upward to the next floors was by way of a concrete spiral stairway and finally to an old steel spiral stair that took us to the outside viewing gallery.  On the way up we passed the massive bells, but unlike those in St Mark's campanile, these ones were not neutered and we'd heard them on our way up.  I think we were both glad when we reached the viewing gallery, a floor above the bells, before the clangers clanged.  The view was not so astounding as that from St Mark's, but there was only a concrete wall between us and oblivion.  No anti-suicide steel mesh to tear through, just up and over and you'll believe a man can fly … for the five or so seconds it would take to reach the ground.  Putting such thoughts behind us, we set to and got some serious photography done before we had to make the equally exhausting descent.
We walked down the main street and found a side street that lead to an archway  through the old city walls.  Took some photos and then went for a coffee in a corner cafe.  Coffee was good and reviving.  Then we walked further down the main street past a Chagall exhibition and on to a wee town square planted with plane trees.  While I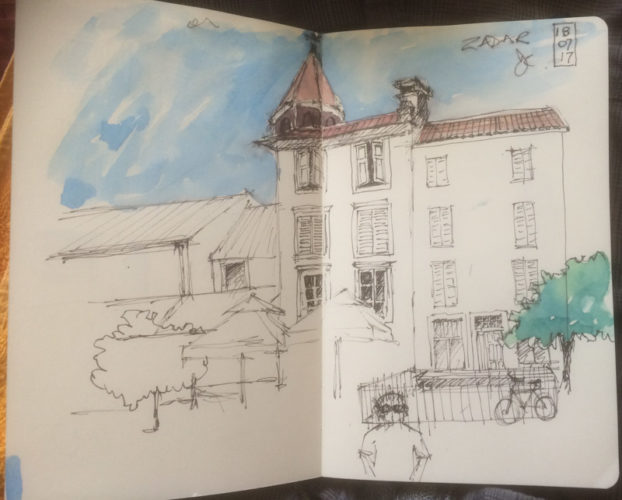 sketched the buildings in the square, Scamp went on an expedition to a wee park.  I was almost finished and was beginning to wonder where she'd got to when she appeared looking sheepish and with a plaster on her knee, another on her hand and with a bit patch of blood on her skirt.  "I'm all right" she said and told me how she had been taking photos in the park when a tree stump sneaked up behind her and tripped her up.  Luckily some kind folk saw the incident and shooed the tree stump away, cleaned her up and said "There, there".  At least, that was the gist of her story.  She'd been concentrating so much on taking photos, she'd forgotten about the tree stump behind her and fell over it.  There was a fair bit of blood on her skirt, but it had come from a cut on her hand.  There were two people nearby who dressed the wounds and made sure she was ok.  We went looking for them, but couldn't find them.  Nice to know that there are decent people around to help an injured Scamp.
We walked through the wee park and sat with a beer for me and some sparkling water for the injured soldier.  We used the ice from the sparkling water to reduce the swelling that was starting to form on her knee.  When she felt better, we walked through the city walls by another gate and found the stop for the Wee Train.  Scamp loves Wee Trains, so we boarded it and went for a tour round the old town of Zadar.  When the ride was over, we went and picked up the shuttle bus to take us back to the ship.
While Scamp soaked up some rays on the top deck, I dumped my photos and started writing this.  Tonight we went to Smash 'n' Grab for dinner and then danced to Strum Jam until some ridiculous game show started.  Nonsense for the masses.
After examining Scamps injuries tonight, it looks like her pride took the majority of the impact of the fall with the cuts and grazes as fairly secondary wounds.  She even managed to dance tonight when we got back to the ship.  I think the ice cream we had on the way back to the bus helped repair the damage.
Tomorrow we go to Split, also in Croatia.
This post comes to you from Inbox Cafe Split.