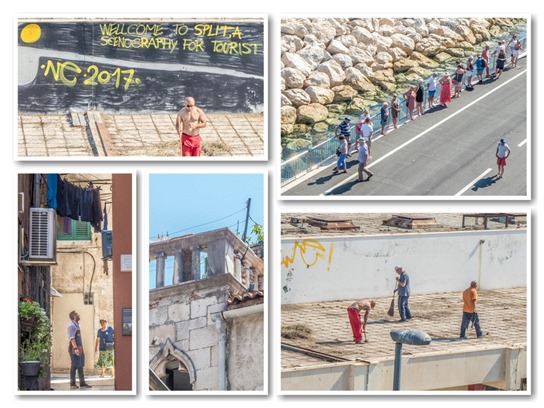 We'd been looking forward to visiting Split, but were ultimately disappointed.
Split is a busy, very busy, transition point between road, rail and sea travel in Croatia.  We were berthed just along from the busy bus and train station and also from the ferry terminal.  My abiding memory was of the luggage safes that were all along the road.  Some were outside in the open air and some were housed behind little shop fronts.  Prices varied, but were mainly 5 euros for the first hour and 1.5 euros per hour after that to leave your luggage.  Like a giant left luggage locker.  They didn't look all that secure to me, but lots of people, mainly teenager tourists seemed to trust their luggage to the folk who ran them.
We walked along the front following the map until we came to the Old Town.  Then we turned up the hill and followed the hundreds or thousands who were also thronging the streets.  Most of them seemed to be Game of Thrones fans and there were a lot of places catering for them.  It turned out that later when I was viewing Split in retrospect that a lot of GoT was filmed in the basement of the palace.  It's there that Queen Something-unpronounceable keeps her dragons.  We didn't see any dragons, just a few cats and dogs.
We walked on up the hill until we exited the old town.  Then we followed our noses down until we found signs for the Golden Gate.  No bridges JIC, just a golden gate.  It didn't look too golden in the late morning light, just stone.  We gave Split one more chance to surprise and amaze us, but it didn't happen, so we started the trek back to the ship.  We passed an impressive fountain, and lots of interesting alleyways, but nothing as impressive as we were expecting.  We also stopped for a beer at a WiFi cafe, thinking maybe Venice has spoiled us for architecture and scenery.
After lunch I went back in to get a sketch done.  I chose the Golden Gate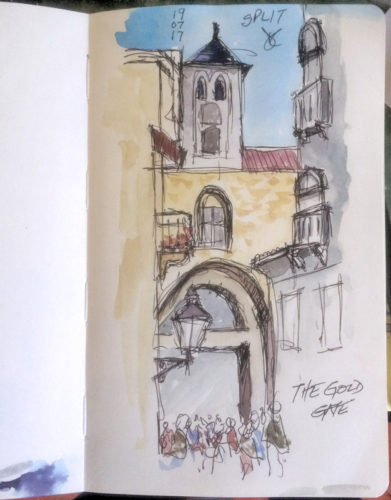 as it was the one thing apart from the fountain that looked interesting enough to sketch. Scamp has not been sleeping very well since we came on board, so I bought her some lavender oil because that is supposed to help with sleep problems.  I've not posted any sketches recently.  I'm hoping to make up a special blog post the day after tomorrow when we have a sea day to fill with something other than sunbathing DV.
Scamp's leg and hand are a lot better today, thankfully.  She has a livid bruise on her hip and her left knee is still a bit scabby, but like I said yesterday, it was her pride that took the biggest bump!
Dubrovnik tomorrow and Scamp wants to walk the walls!