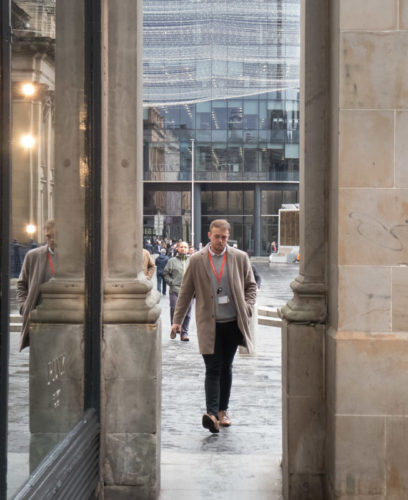 Scamp offered to drive into Glasgow and I readily accepted.
We drove in to Glasgow today with Scamp at the wheel in her own car. The automatic board told us there were 100 spaces in the Concert Hall carpark, however two minutes later when we tried to enter the carpark, the machine at the gate said "CARPARK FULL". I realise that the automatic sign may not be entirely accurate, but mistaking 100 cars for spaces means it should have gone to Specsavers. We were not amused. However, we soon found a space that Scamp's wee car could squeeze into. Luckily it is quite small, because so was that space. It's nice being a passenger, occasionally.
Walked down to Blackfriars under lightening skies and grabbed today's PoD in Royal Exchange Square. It was lunch time and all the ravenous office workers were piling through the arches looking for food. That one bloke seemed singleminded in his pursuit of his sandwiches.
Jive was good. We went over the Seven Spins, Ladles, The StepOver and finished with the Tangles. I thought it was Tango, but it was indeed Tangles. That took up most of the hour, then we did a quick run through of the beginning of the Rumba and the Cha-Cha, before we did a quick practise of the Quickstep. Busy, busy lesson today, but worthwhile.
Coffee in Nero to recap on what we'd learned then home again. I had to keep my mouth shut when I thought that Scamp had taken the wrong turning, it's just that her route on to the motorway is different from mine. Not faster, not slower, just different.
Dinner was out of the freezer for me. A stew I'd made back in October last year. It tasted fine. Scamp had fish.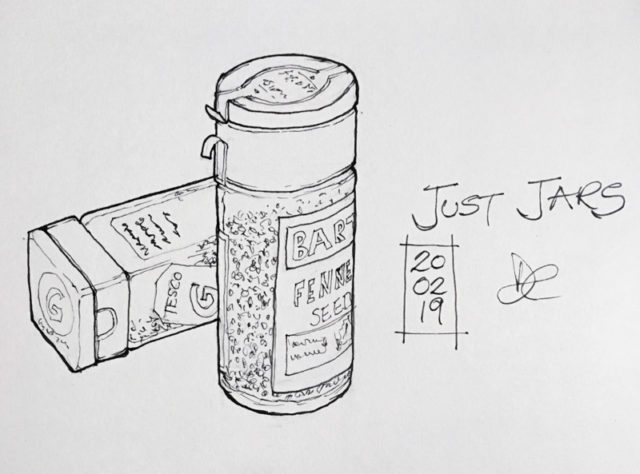 Worked through a pen sketch for 28 Drawings Later before we went out to salsa and that's what you see here. It's two glass spice jars. One rectangular and one square. I like it. I'd tried to use thick and thin lines. Thick lines go round the outside and thin ones are in the inside. It's more complicated than that, but you get the idea.
Rangers were playing at home tonight and, at times, it looked as if the supporters had decided to park on the motorway and walk to Ibrox. The traffic was hardly moving. However we got to STUC only 15 minutes late. Unfortunately, there were too many men, so I sat out the first class and joined in with the second. Quite enjoyed the second.
That's it for today, a bit rushed, but it's late and I want to get this posted, plus after it's on the InterWeb I'm going to update yesterday's post with (corrected) details of yesterday's food extravaganza. * Now completed *
Tomorrow morning is free then I'm meeting the guys for coffee in the afternoon.