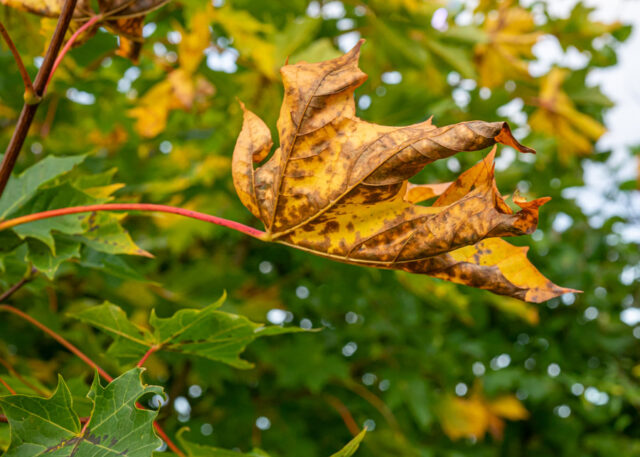 We drove to The Fort for messages and for lunch, after a technology breakdown.
I wanted to see if my covid vaccination status had been updated, but the app wouldn't work. It simply refused to accept my password. I finally gave up and uninstalled it, then reinstalled it and started fresh. When it asked me to scan my driver's license I realised what was going on. People in Scotland had been reported as getting in to a nightclub, then passing their phone back to one of their pals. That allowed them to get in with an other person's phone. The problem was there was no biometrics check on the app. Now there is. It took me two tries before I could get the thing to work, then it crashed just before the final stage. After the first two failed attempts I had to go right back to the start and go through everything again. On my last try at a restart it just took me through all the screens without having to do anything. No license scan, no facial recognition scan, just a QR code. Of course, Scamp got right through first time! Now we'll be able to get into a nightclub!
With our new covid passport, Scamp went looking for towels, a house warming present for Shona, in M&S and I went looking for my next book in Waterstones, but found none that interested me. Then I went to Boots to get fine tweezers. Just the thing for picking off nasty little ticks. The first pair I saw were £23. I was thinking more about £2 or 3. I found a pair, thankfully, for £2. Then I saw a sign of the times. The bloke at the set of Pay Here cubicles asked if I wanted to pay cash or card. I had enough ready cash in my pocket to cover the cost of the tweezers, so I said cash. He pointed to one cubicle at the corner and said "Wait until that one is clear." There was one cubicle for pay cash, the other five or six were card only. I swiftly changed my mind and paid by card. It cost ME the same amount of money, but I'm sure Boots got less from me once the card company's share of my £2 had been deducted. The shape of things to come.
Met Scamp and we went to Wagamama for lunch. Checked in (will we always have to do that from now on?) Ordered shirodashi ramen (pork belly) for me and shu's 'shiok' chicken (curry) for Scamp with a couple of sides. Ebi katsu (prawns in crispy panko breadcrumbs) and Vegetable Tempura. Scamp's main was only just warm, but was replaced without question. Mine was very spicy hot, but tolerable. The Ebi katsu was lovely as usual but the tempura was far too oily. Not Wagamama's best day.
We went to Morrisons for the messages and bought a fair amount of stuff, then drove to to Hobbycraft. Scamp was looking for ring moulds, but they didn't have any. I was looking for a paintbrush, but they didn't have the one I wanted. We drove home.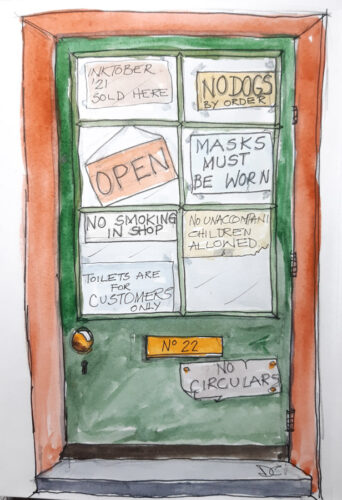 After a while I put on my boots and went for a walk in St Mo's to see what I could find. PoD went to a golden leaf. Not real gold, just gold leaf 😂🤣. Sketch for today was 'Open'. My thinking was the door to a shop that is open, but the restrictions on entry mean it's closed. I liked it although the sketching and painting were rubbish.
We're having John and Marion over for dinner tomorrow, so tonight we started our prep. My soup didn't quite hit the mark, so I'll have a rethink for tomorrow, but Scamp's main is looking good.
Tomorrow will be busy. Work will hopefully start before we go out to Bridge of Weir for dance class.