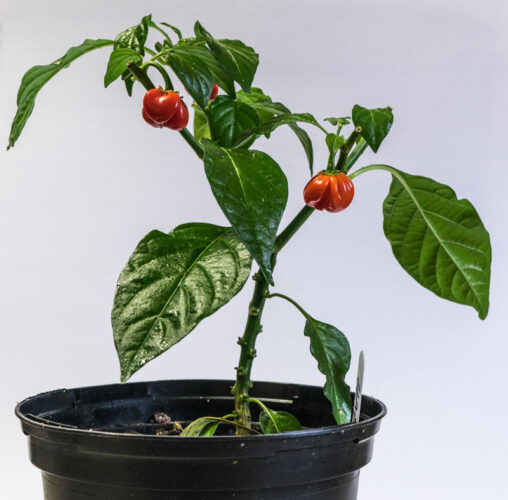 Today was wild. High winds, rain and a stormtrooper.
The winds started last night and continued for most of the day. It wasn't just the winds that were wild, it was the gusts and the way they blew the rain right into the front windows. Double glazing is worth every penny you pay for it, believe me.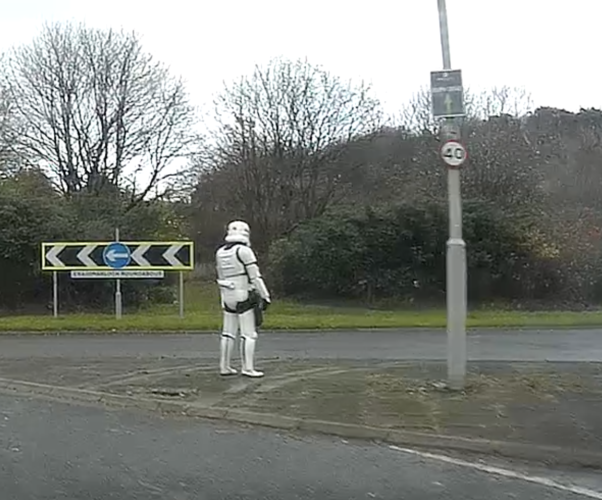 This wasn't a day for going out if you didn't need to. We did need to. Somebody needed to go out to get our meds from Boots and I volunteered. Drove up to Craigmarloch and did a double take at the roundabout. Was that an Imperial Stormtrooper standing there? You know that thing you get when you get a half second glimpse of something and you're not sure if you really saw it? That's how it was for me. I shook my head and continued in to Tesco, well, to Boots which is just next to Tesco. On the way home I checked. Nope, no Stormies to be seen. Aha, but we've got dash cams in our cars. I checked the film when I got back and sure enough, there he is (or SHE is) standing waiting at the roundabout. I've even got photo evidence.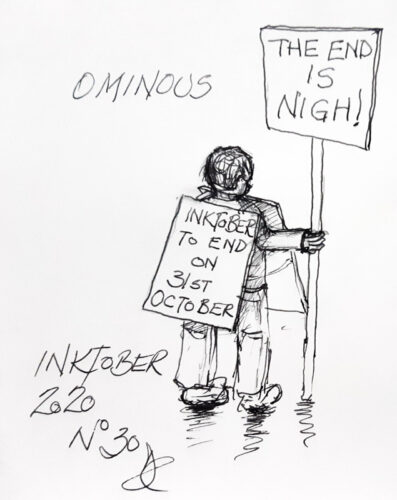 Back home and after lunch I took a couple of sketch books upstairs and sketched out yesterday's and then today's Inktober offerings. The last ones this year. The first one is my take on Ominous. If they insist on giving us vague, vacuous prompts I think it only fit to give them irreverent drawings. Today's was a bit more serious attempt at a lateral thinking answer to Crawl. I was impressed with the lifework in it. It was drawn straight with a fountain pen I've had for years. It's comfortable to use and it's drawn so many sketches and doodles, it does them of its own volition now. I liked it, can you tell?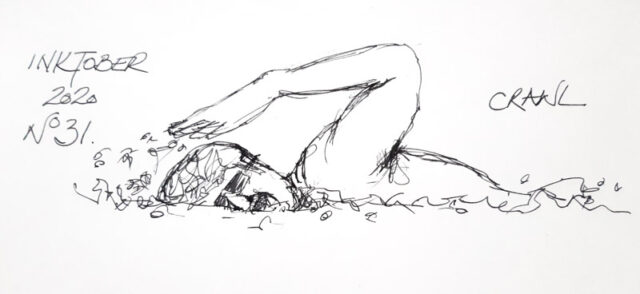 PoD went to the last of the Habanero fruits on the last of the plants. They've been over-run with whitefly and greenfly this year and I don't know how to deal with them. Answers on a postcard please.
That about wraps it up for today. Boris bumbled his way through his lockdown decision for England. If he was half the man he should have been he'd have laid it out plain and simple and told them what his decision was. But he isn't and he hadn't and he didn't. Why? Because he's Bumbling Boris and he's out of his depth. Poor man.
Tomorrow we're hoping for at least some dry hours with just the hint of sun. We may be lucky.