For once it was not up and out early. In fact it was more lie in bed until you know you've got to do something before you get bed sores. I'd promised I'd clear out the back bedroom (my painting room) so Scamp's sister and her husband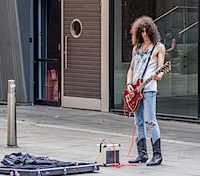 have somewhere to sleep tomorrow when they return from their cruise. After that, I was exhausted so I got the bus in to Glasgow. Half an hour between buses and then forty five minutes for a twenty minute journey, and the pinheads in the government wonder why people don't use public transport. When was the last time they actually sat on a bus? However, I shouldn't complain too much because I don't have to pay for the privilege
Glasgow was jumping today. It was looking its best, though and the sun made it look much more vibrant than usual. I took a wander down Bucky Street past St Enoch's to the Clyde, but apart from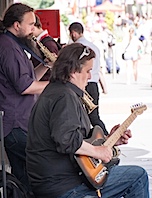 taking a shot of a Brian May lookalike playing loud guitar with lots of reverb and little else. Then as a complete contrast my next few shots were of a couple of Polish guys playing some smooth jazz. There wasn't much to see down by the Clyde. Lots going on, but nothing that moved me to press the shutter button. I walked back up along Queen Street where I usually can find something interesting at the GOMA, but nothing worthwhile today. Loads of people but no interesting shots.
Got the bus home. Luckily the fast bus which only took just over 20 mins. Scamp was sitting in the garden when I got home, admiring yesterday's work. I decided to join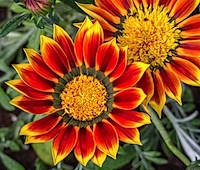 her and sat for a few hours taking in some rays. Of course, I also managed to take some shots of the flowers we bought yesterday. The gazania really shone in today's sunshine. It had to be the star.