The thunderstorms through the night seemed to blend in with my dreams as is often the case. When I awoke it was to heavy rain. Not at all like yesterday with its wall to wall sunshine, well, that's Scotland for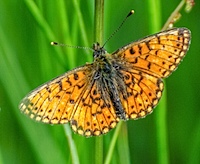 you. Lazy start to the day and then lunch with June in Bridge of Allen, or is it Allan? I'm never sure. Anyway, lunch was good as it always is in this wee Italian. After lunch we went to Dobbies to get (even) more plants for the garden. I'm always amazed at the number of plants Scamp can cram into our little postage stamp of a garden. Such was the case today. As always, to avoid being infected with the gardening bug, I made a hasty exit … to St Mo's today, but it could well have been cycling or down the canal, anything to keep me away from horticulture. The weather had cleared up by now as the magic fairies had predicted last night.
Lots of damselflies around today in a variety of colours. Mainly blue as usual, but also red and brown. Then the big surprise, a dragonfly. A stubby little brown dragon, but a dragon none the less. Also a lot of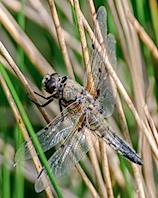 butterflies. Can't remember what the orange one is called, but I remember seeing a lot of them this time last year, so I should be able to find out. No deer to be seen today, but when driving to Hamilton to pick up Jac and Murd, I saw a few beside the motorway. Such a precarious existence they have. The evening was spent comparing cruise notes with Jac and Murd. Much drink was taken. It's a good job I'm not up and out early tomorrow.