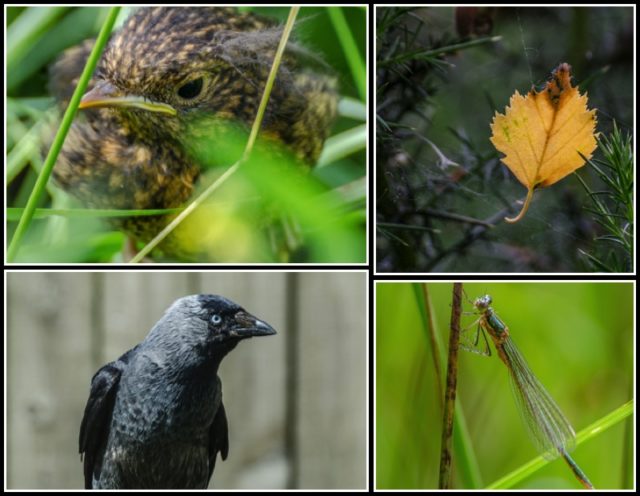 Two weeks ago we were in sunny Ajaccio. Today we're in Cold Cumbersheugh with the cold. Scamp threw out some bread for the birds and the birds came in a variety of sizes and types. After I'd chased the seagulls (AKA Shitehawks) the rest of the birds descended. Only the jackdaws seemed to hang back, which is strange for a member of the crow family. Usually they are almost as bad as the shitehawks. I did get a few decent shots of the jackdaw.
I went for a walk later in the afternoon and while I was walking through St Mo's wood, I almost tramped on a wee bird. It was sitting on a branch in the long grass and looked as if it was completely lost. I did think of lifting it up into one of the trees, but the golden rule with wildlife which looks lost is don't touch. Mum and dad birdie will be watching from the safety of the trees and if you disturb the youngster, they might just abandon it. Best to leave it to its fate.
Tonight I feel worse than I did this morning. The only good news is that Wales are into the next round of the Euros. It's not that I'm interested in football or even that I support Wales. I just cheer for any team that plays England. Even better if, like Wales, they beat England, whatever the game.
Tonight Michael Gove announced his intention of standing for PM. Who could voter for such a Spitting Image puppet. He says he was born in Scotland. He wasn't, he was born in Embra. Embra isn't in Scotland, it's in Embra.
Off to bed now, doped up with paracetamol and Benylin.  Feeling shivery tonight.  I even put the heating on!  Hope July warms up a bit.