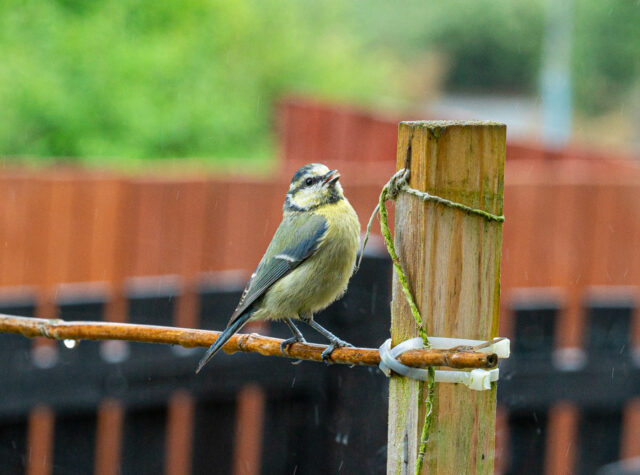 It rained all day.
This was the day we'd planned to go somewhere scenic where I'd get a chance to shoot some landscapes, instead of macros around St Mo's. Now, don't get me wrong, there's nothing wrong with macros and St Mo's has been a life saver for us these last two years, but I just wanted to get out and take some photos in a wider landscape. However, it would have to be another day.
It was a dismal drizzle that was the main feature of the weather today. All the spiderwebs in the bushes across from the house were holding more than their fair share of moisture and, while very photogenic, I knew I'd be soaked to the skin if I even tried to get near them. I've done it before and I wasn't going to be tricked into it again.
What I did notice when I was making my morning coffee was the little blue tit sitting on my pea frame. I stood there for a while watching it feeding on something invisible to me. I guess it was finding insects and maybe spiders in the nooks and crannies of the frame. When I'd finished my coffee and returned to the kitchen there were two blue tits this time on the pea frame. Both busy acrobatically feeding on the canes and wooden slats that make up the frame. This time I grabbed my camera and took a few shots through the window. I knew that although they seemed totally engrossed in their search, as soon as I put the key in to unlock the door they'd fly off, so I just had to be satisfied with a few shots through the window (thankfully recently cleaned). At least that would be two or three shots in the bag for today.
We drove up to the town centre as the drizzle turned to real rain. Scamp was going to Tesco and I was going looking for a decent pair of trainers in JB Sports. Not surprisingly, I didn't find any. It would be a miracle if I was to find a Pair, far less a pair that I'd spend money on. Most of the boxes were empty or only had one shoe in them. It must be a shoplifter's paradise. I came away empty handed, but still wearing my battered and torn Merrell Moabs. Comfortable now, but leaky as a sieve. Scamp was waiting for me in the car and we drove home through the drizzle to Bubble & Squeak and an egg for lunch.
I browsed the internet looking for trainers that I'd actually pay money for, but found little. Eventually gave up and when Jackie phoned Scamp I went upstairs to get a painting out of my head and on to paper. It was a pastel painting I was attempting. It's part finished, but I don't see it getting much further than tomorrow before it heads for the bin. Checked out the blue tit photos from the morning and they really weren't all that bad. One of them made PoD. A little blue tit sitting on the cane at the top of the pea frame, looking as if it's singing its wee heart out. It entitled "Singing in the Rain".
Dinner tonight we shared a Giovanni Rana meal for one of Gnocchi with a Tomato, and Basil Sauce as a starter. Main course was another Giovanna Rana, this time Mushroom Tortellini. Giovanni is a clever man. The gnocchi starter was nuked for four and a half minutes and the tortellini was boiled for two minutes. That's fast food, but not fast-food if you understand me. That hyphen does a fair bit of damage!
A gentle practise of the Foxtrot, Waltz and Saunter Together tonight worked well. No great mistakes by either party.
I think the rain may have stopped now and we're hoping we might get out somewhere scenic tomorrow.